MetaVR creates 3D real–time environments that provide the fidelity of geospecific simulation with game quality graphics and performance.

In this issue:
56.A – MetaVR provides mixed-reality products for close air support training
56.B – Additional VRSG licenses for MJAT Reaper RPA training program
56.C – Summary of recent VRSG licenses purchased for JTAC training programs
56.D – USAF purchased VRSG licenses for Combat Systems Officer (CSO) training program
56.E – MetaVR and business partners at I/ITSEC 2019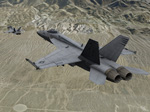 56.A MetaVR provides mixed-reality products for close air support training
MetaVR has developed a joint fires training scenario capability, using a notional F/A-18 Block III Part Task Mission Trainer (PTMT) physical cockpit networked with our new Deployable Joint Fires Trainer (DJFT).
The DJFT is a newly designed system that provides a quick-deploy capability for joint terminal attack controllers (JTACs) and forward observers (FOs) to train alongside fixed- and rotary-wing aircrew within a fully immersive, joint training environment. The modular plug-and-play DJFT is comprised of three or more networked stations — aircrew operator station (AOS), JTAC/FO role player station, and the instructor operator station (IOS) — each fully contained within two-person portable ruggedized cases. The DJFT contains all the hardware required to run dynamic, full-spectrum JTAC/joint fires training scenarios, including notebook computers, GPS receiver, and communication systems. In addition to MetaVR's Virtual Reality Scene Generator (VRSG) and 3D content, the solution features Battlespace Simulations' (BSI's) Modern Air Combat Environment (MACE) for generating air and ground entities, threat planning, and 5-Line, 9-Line, and call-for-fire interfaces including digitally aided close air support (DACAS). The DJFT was networked with the F/A-18 PTMT at I/ITSEC 2019 [See item #56.E]. The F/A-18 Block III PTMT is a prototype to-scale physical cockpit simulator designed and built under an internal MetaVR development program. Designed as a low-cost, portable, quick-deploy training solution, the system uses representative aircraft hardware and can be configured for mission training on 4.5 generation combat aircraft. It can function as a standalone training solution as part of joint, networked training operations. In addition to VRSG and 3D content, the PTMT will feature BSI's MACE for scenario generation, constructively generated forces, full spectrum real-time physics calculations, and tactical datalinks integration.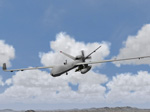 56.B Additional VRSG licenses for MJAT Reaper RPA training program
The U.S. Army Joint Technology Center and Systems Integration Lab (JSIL) purchased 146 new VRSG licenses in 2019 for the continued rollout of the U.S. Air Force MQ-9 remote piloted air vehicle simulator. The simulator, also known as the MALET-JSIL Aircrew Trainer, or MJAT, is a plug-and-play training capability that converts a current tactical MQ-9 ground control station into a training simulator. Prior to 2019, JSIL had fielded 56 MJATs to USAF sites across the U.S. including at the No. 39 Squadron at Creech Air Force Base.
The MJAT provides remotely piloted aircraft (RPA) operators the ability to conduct simulation training as part of their qualification and continuation training. Like other JSIL developed RPA trainers, the embedded MJAT uses the Air Force Synthetic Environment for Reconnaissance and Surveillance software with VRSG, which stimulates the tactical vehicle control software to emulate GCS functions: air vehicle control, payload control, weapons control, communications, send and receive video data, and mission planning.
In this trainer, VRSG's ability to simulate the camera payload by streaming real-time HD-quality H.264 video with KLV metadata means that when operators are not flying an actual MQ-9, they can train by flying the simulated RPA using the same hardware that they use to operate the actual aircraft, stimulate actual ISR systems, and interoperate with JTAC training simulators. [See Item #56.C]
As part of an international training effort, TCS Consortium announced this summer it will support U.K. Royal Air Force (RAF) MQ-9 Reaper squadrons by delivering training in MQ-9 Reaper tactics and procedures on the MJAT to RAF RPA pilots and operators.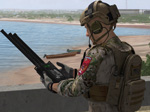 56.C Summary of recent VRSG licenses purchased for JTAC training programs
Multiple programs in the U.S. and abroad continue to obtain new VRSG licenses for JTAC and joint fires training systems. These MetaVR based training systems all use VRSG and 3D content for real-time 3D visualization of the battlespace, BSI's MACE computer generated force and semi-automated force application with call-for-fire, 5-line and 9-line interfaces. Most of these programs also use a dome display system from Immersive Display Solutions (IDSI) on which VRSG renders the virtual world. In addition to a large display, all systems provide three stations (instructor, student, and pilot/role player) and simulated military equipment in which VRSG renders the visual or simulated sensor scene. These systems all are accredited for type 1, 2, 3 controls for both day and night, and for laser target designation with a simulated military laser device by the U.S. Joint Fire Support Executive Steering Committee Memorandum of Agreement and the NATO Standardization Agreement.
The U.S. Air National Guard and Adazi Military Base, Latvia, renewed software maintenance for a total of 191 VRSG licenses used in the Advanced Joint Terminal Attack Controller Training Systems (AJTS) simulators across the U.S. and by NATO partners overseas.
QuantaDyn purchased 51 VRSG licenses for 24 new U.S. Air Force desktop training systems, called Joint Terminal Control (JTC) Training and Rehearsal System (TRS) Desktop Systems. These training systems are for ACC, AFSOC, PACAF, and AETC units. Like the JTC TRS dome training systems, these 24 JTC TRS desktop systems provide three stations (instructor, student, and pilot/role player) that allow for a modular setup within a 10' x 9' small training area. During 2019, QuantaDyn also renewed software maintenance for 308 VRSG licenses for JTC TRS dome training systems. Over the past five years, QuantaDyn has provided the largest number of close-air-support simulation systems fielded with VRSG in the U.S. and abroad in their accredited joint fires devices, which range from portable and desktop systems to immersive domes for JTAC training.
Software maintenance for a total of 49 VRSG licenses were renewed for JTAC simulators at the Special Tactics Training Squadron (STTS) simulation facility at Hurlburt Field, FL; Special Operations Terminal Attack Controller Course (SOTACC) facility; the U.K.'s FAC/JTAC Training Programme at the Joint Forward Air Control Training and Standardisation Unit (JFACTSU), and the Armed Forces Academy in the Slovak Republic.
This year, MetaVR's business partner, Close Air Solutions, conducted a major upgrade of the UAE Presidential Guard Joint Fires Training Simulators (JFTS), which use VRSG and 3D content. The upgrade includes the latest versions of VRSG and BSI's MACE software; 49 VRSG licenses were renewed and two new licenses were purchased. The upgrade also includes a custom Harris 7850 multi-channel airborne networking radio and a new classroom with an 8 meter wide flat-screen display from IDSI using four Barco FS70 projectors. An extension to this upgrade is ongoing integration of an RG-31 AGRAB fighting vehicle mortar carrier mock-up into the UAE PG JFTS. The mock-up replica vehicle is connected to the JFTS simulators with students in the emulated systems using the fire control computer to input firing information. For this upgrade MetaVR built a new RG-31 MMS model with a detailed mortar launcher. AGRAB Fire Teams will be able to conduct dry-fire drills on the replica vehicle while joint forward observer (JFO) and joint terminal attack controller (JTAC) students can direct fires from within their visual environments. All the site systems are networked, enabling full team and collective training missions to be conducted.
The U.S. Navy renewed 29 VRSG licenses for the Combined Arms Virtual Environment (CAVE) systems at three training locations, and purchased four VRSG licenses for a new CAVE system to be used for training at US Naval Undersea Warfare Center (NUWC) Newport, RI. The U.S. Navy also purchased three licenses for a second CAVE at Expeditionary Warfare Training Group, Atlantic (EWTGLANT) Virginia Beach, VA.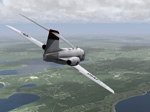 56.D USAF purchased VRSG licenses for Combat Systems Officer (CSO) training program
VRSG has been integrated into the U.S. Air Force T-1A Jayhawk twin-engine jet trainer aircraft as part of an embedded training device to provide a simulated mixed reality Electro-Optical/Infra-Red EO/IR training capability to the aircraft. The U.S. Air Force's Combat Systems Officer (CSO) training station at Naval Air Station Pensacola, FL, purchased 49 MetaVR VRSG licenses, which were installed on 21 T-1A training aircraft at the base. Subsequently, 12 additional VRSG licenses were purchased later in 2019 for the CSO training program at Tinker Air Force Base, OK.
VRSG is part of the T-1A Combat System Officers Training System (CSOTS) embedded training device for the aircraft, which is used to train students in the operation of EO/IR sensors. VRSG generates the visuals for the system, resulting in a mixed-reality training experience for trainees that combines simulated and live environments.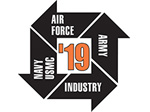 56.E MetaVR and business partners at I/ITSEC 2019
MetaVR and its business partners exhibited products and technology in Booth #1348 at the Interservice/Industry Training, Simulation and Education Conference and Trade Show (I/ITSEC), December 2-6, 2019, at the Orange County Convention Center, Orlando, FL, USA.
MetaVR demonstrated its terrain and visualization products and technologies that support applications ranging from unmanned air system (UAS) operator and Joint Terminal Attack Control (JTAC) training, to high-speed fixed-wing cockpit simulators, to littoral and marine-based operations and individual/first-person ground-level urban operations. Scenarios were rendered in the latest version of VRSG, version 6.4, which features dynamic object-on-object shadows, as well as self-shadowing. Our goal is to support shadows on a large scale so that sensor operators at altitude as well as troops on the ground all see the same scene when coordinating close air support.
The F/A-18 Block III PTMT and DJFT demonstration scenario [See item #56.A] displayed MetaVR's geospecific 3D terrain of the Fallon Range Training Complex (FRTC), for joint air-land training in support of a peer and near-peer armor-against-armor engagement. The scenario enabled JTAC and FO to train with F/A-18 pilots (one in the F/A-18 PTMT, the other at the DJFT aircrew station) in a quickly evolving mission that included enemy and friendly land forces, and enemy force air targets. The near-peer adversary roles included AI-generated air defense and electronic warfare components designed to mimic a complex adversary.
The scenario begins with a peer-to-peer or near-peer armored company level operation. The JTAC passes target information to the F/A-18 pilot via DACAS for neutralization. While the F/A-18 approaches the target a hostile anti-aircraft threat will unmask, entering the scene. At this point the scenario shifts to a Suppression of Enemy Air Defense (SEAD) operation, with the JTAC calling in surface fires to neutralize the new threat and allow the F/A-18 to prosecute its original target. Active electronic warfare and air defense will be employed by the adversary forces to attempt to thwart the friendly forces.
The pilot in the F/A-18 PTMT wore the HTC Vive Pro system running VRSG, which was augmented with Collins Aerospace's Coalescence mixed-reality training system; the pilot is able to see their own hands and interact with the cockpit controls in the physical environment while immersed in the synthetic environment for the out-the-window (OTW) view.
The scenario is facilitated by D3A Defence, a veteran-run privately held company, which with combined experience of over 50 years of military service, brings extensive military knowledge and skillsets to all levels of training and simulation.
Elsewhere in the booth, MetaVR demonstrated its new 3D geospecific terrain dataset of Hajin, Syria, built in MetaVR's round-earth Metadesic™ format with the latest version of MetaVR Terrain Tools for Esri ArcGIS. Virtual Hajin was built from geospecific high-resolution imagery and elevation source data: 50 cm high-resolution imagery licensed from Digital Globe blended to underlying 1-2 meter imagery of all of Syria; SRTM elevation data compiled with a 30-meter elevation post spacing. Cultural features include 112 geospecific building models, 13,326 CityEngine building models, 25,478 vegetation models, plus power lines and 1,376 streetlights. For nighttime viewing, all the building models contain emissive light-map textures and 22 of the geospecific buildings have light lobes (some have multiple light lobes). All of the streetlights contain light lobes as well. Models were placed on the terrain with VRSG Scenario Editor.
MetaVR demonstrated VRSG's 3D ocean simulation in scenarios featuring models from our military model library of 172 naval vessels on geospecific terrain/ocean body of the Strait of Hormuz and the littoral area of the port city of Kismayo, Somalia. Many vessel models have deck details modeled to first-person level.

Other MetaVR demonstrations included:
High-resolution model of Mischief Reef in the South China Sea, an occupied reef in the South China Sea, equipped with an HQ-9 missile defense system. This high-resolution terrain includes shoreline and bathymetry, which make the terrain ideal for sea-based and littoral training scenarios. Geospecific culture includes 249 buildings, a runway, 20,377 vegetation elements, 2,632 miscellaneous shipping containers, turrets, airport instruments, and other items.
High-resolution geospecific 3D terrain of the Somalia port city of Kismayo. A relevant geospecific terrain for coordinated UAS and JTAC close-air-support training, this 3D terrain is populated with hundreds of geolocated, photo-specific culture models built from ground-level photographs taken on the streets of Kismayo. Demonstration scenarios included amphibious and close-air-support missions.
High-resolution geospecific 3D terrain of a mountainous region in Kabul province, Afghanistan. The modeled village of Khairabad includes 650 custom-built 3D structures that match footprints on the source imagery. Many structures have multiple damage states, demonstrated in scenarios that feature close-air-support missions with UAS overwatch and strikes, and pattern of life activity. These scenarios contain many of MetaVR's newest military ground vehicles.
High-resolution geospecific 3D terrain of Continental US plus Alaska and Hawaii (CONUS++) with modeled training sites and airfields. The CONUS++ demonstrations include flythrough sequences on 28 modeled airports and airfields, with high-resolution imagery and geospecific and geotypical cultural content. Demonstrations included day/night aircraft take-off/landing at the modeled Buckley Air Force Base, modeled training sites such as two sites at Camp Pendleton, Leschi Town at JBLM, and SOCTACC Village at Yuma Proving Ground.
All terrain was built in MetaVR's round-earth format with Terrain Tools. The real-time demonstrations were created with VRSG Scenario Editor, using substantial cultural feature, character, and land, sea, and air vehicle assets, and 3D character animations from our libraries of over 7,950 models and 1,550 animations.
SRPaero (SRP), the creators of MetaVR's SUAS for collecting sub-inch geospecific imagery for real-time 3D terrain, demonstrated features of their latest SUAS built for autonomous aerial surveying, a VTOL hybrid. For imagery data collection, the SUAS captures 2 cm per-pixel resolution images that can be used with accurate elevation data to compile terrain at 2 cm resolution. The resulting synthetic environment can then be rendered in VRSG. SRP will show examples of terrain that MetaVR built from the 2 cm imagery the SUAS collected at two target ranges at NAS Fallon and at the Prospect Square area of Yuma Proving Ground. SRP operated the aircraft for imagery data collection at both sites.

Elsewhere, VRSG was included in the following demonstrations at I/ITSEC:
The Air National Guard demonstrated VRSG in booth #1933 the AAJTS Derivative Proof of Concept or ADPOC as an interim name. The ADPOC, nicknamed "Tardis", is a 360° immersive display system built from 32 large-screen LCD panels in an octagon format. The near-zero edge bezel design of the LCD panels provides a high resolution, high brightness, and high contrast ratio display with no light path shadowing. Tardis uses VRSG to provide a high fidelity, life-like virtual environment. Optional dynamic eyepoint tracking constantly changes the viewing frusta on all displays to match the trainee eyepoint position, allowing the trainee to physically look around corners, over fences, and into vehicles as well as move around in the virtual environment. The Tardis concept is being evaluated for potential future use on the ANG AAJTS. Design and integration of Tardis was accomplished by QuantaDyn Corporation.
Battlespace Simulations (BSI) demonstrated VRSG in booth #1348 with their latest version of MACE, a holistic computer-generated/semi-automated forces (CGF/SAF) application used throughout the world for accredited joint fires training systems, electronic warfare training, and threat/entity generation. MACE is designed to work seamlessly with VRSG and the two products are used together in over 150 fielded training systems. BSI had a role-player station set up with VRSG OTW and simulated sensor views.
Immersive Display Solutions (IDSI) demonstrated VRSG in booth #1463 on their new VisionFlex flexible fiberglass 4-meter diameter cylindrical display with two Barco 4K FS 40 UHD LED projectors.
PLEXSYS demonstrated VRSG in booth #1573 with the Advanced Simulation Combat Operations Trainer (ASCOT) 7 a dynamic and intuitive CGF platform in which VRSG rendered the 3D environment. Demonstrations took place on MetaVR's high-resolution geospecific terrain of the Oregon/Washington area.
TRU Simulation + Training demonstrated VRSG in booth #1201 in their Adaptable Mission Trainer (AT-6/T-6) and V280 Demonstrator. The AT-6/T-6 demonstration featured VRSG scenes rendered within Collins Aerospace's Coalescence mixed-reality training system.
The U.S. Navy demonstrated VRSG in booth #249 in its Next Generation Threat System (NGTS).
Vertex Solutions demonstrated VRSG in booth #2556 in the prototype USAF Air Mobility Command Virtual Reality Threat Identification, Countermeasures and Learning (VRTICL). VRTICL is a two-person collaborative VR trainer that allows a pilot and a spotter to work together to identify antiaircraft threats and employ the appropriate tactics to avoid them. VRTICL includes integration with BSI's MACE for certified threat models and delivery in VRSG for high-fidelity display of threat characteristics, including visual signature and flight behaviors rendered in the VR environment. The current pilot project is developed on a KC-10 VR cockpit.
ZedaSoft included VRSG in booth #1473 in three demonstrations, showcasing simulator technologies using their CBA® for Simulation software framework:
An AH-64E Apache helicopter concept prototyping kiosk running VRSG simulating sensor and Target Acquisition Designation Sight (TADS) views.
Virtual cockpits in the IDSI VisionStation3 mini-dome system running VRSG rendering a three-projector view of MetaVR's virtual Nellis Air Force Base and Afghanistan 3D terrain.
F-16 and other virtual cockpits running VRSG in an augmented reality (AR) environment. The VRSG scene was displayed on three large LCD monitors as well as within the SA-Photonics SA-62/S Helmet Mounted Sight (HMS). The HMS with a Thales/Intersense IS-1500 tracker demonstrated Joint Helmet Mounted Cueing System (JHMCS) symbology in ZedaSoft's Reconfigurable Cockpit System (RCS).


---
This historical, archived newsletter contains the previous name of our company. Our company name is now MVRsimulation, per our announcement of September 1, 2021.
Previous issues of MVRsimulation News can be found at www.mvrsimulation.com/aboutus/newsarchive.html.

Copyright © 2019-2021, MVRsimulation Inc.