MVRsimulation News Issue 66
DJFT receives full JFS ESC accreditation
MVRsimulation's Deployable Joint Fires Trainer (DJFT) has become the industry's first mixed-reality JTAC training simulator to achieve full accreditation by the Joint Fire Support Executive Steering Committee (JFS ESC).

The DJFT Accreditation Memo was signed by the Joint Staff J-6, Joint Fires Integration Division JCAS JTAC MOA Lead 24 May 2023 and is marked as CUI, and was published on the JFS-ESC's official APAN page.

The accreditation covers the fully-deployable DJFT as delivered to the Headquarters USAFE-AFAFRICA Warfare Center. The system comprises three two-person transportable aluminum cases - instructor operator station, role player station, and observer (JTAC) station; MVRsimulation's VRSG; Battlespace Simulations' MACE; and Varjo XR-3 mixed-reality headset; for Type, 1, 2, and 3 TAC, BOC, FW, RW, RO, VDL, SEAD, Urban, FAC (A), Night, IR, and Laser.

The DJFT emulates and simulates laser target designation, laser range finder, global positioning system, infrared pointer and strobe, video downlink, ATAK/WINTAK-Link 16 capability and AN/PRC-117G and AN/PRC-152A systems.

With the XR-3 giving the JTAC a 360 x 360-degree field with pass-through vision, the DJFT allows the trainee to use emulated physical devices, and access written products; and provides them the ability to read, write, and have visual use of their hands while wearing the head mounted display.

The DJFT is a fully internally-developed COTS product made entirely in the United States by JTACs for JTACs. This accreditation validates our commitment to team with agile, intelligent partners to deliver next-generation JTAC training solutions for the military training community.
The last few months have seen a number of new capabilities introduced for the DJFT based on user feedback, including:
'JTAC attach' capability: allows the JTAC trainee to be attached to a dynamic 3D model in a way that replicates airborne target reconnaissance in theater - watch a demonstration of this capability in this video;
Full integration with the Special Warfare Assault Kit (SWAK) via VRSG and Battlespace Simulations' MACE: VRSG delivers sensor feed video with KLV metadata directly to the JTAC trainee's SWAK tablet, allowing the user to train on the same kit they use in the field;
Implementation of an updated Emulated Military Equipment (EME) plugin to support dynamic field of view for laser target designators.
Check out these new capabilities (and more!) in the video below. You can also read more about how the DJFT stacks up in the mixed-reality simulation market in this industry analysis piece by Giles Ebbutt, JTACs: Staying in Control.

To get hands-on with the kit and experience the next generation of mixed-reality JTAC training, please email demos@mvrsimulation.com to arrange a time and place. Our place or yours?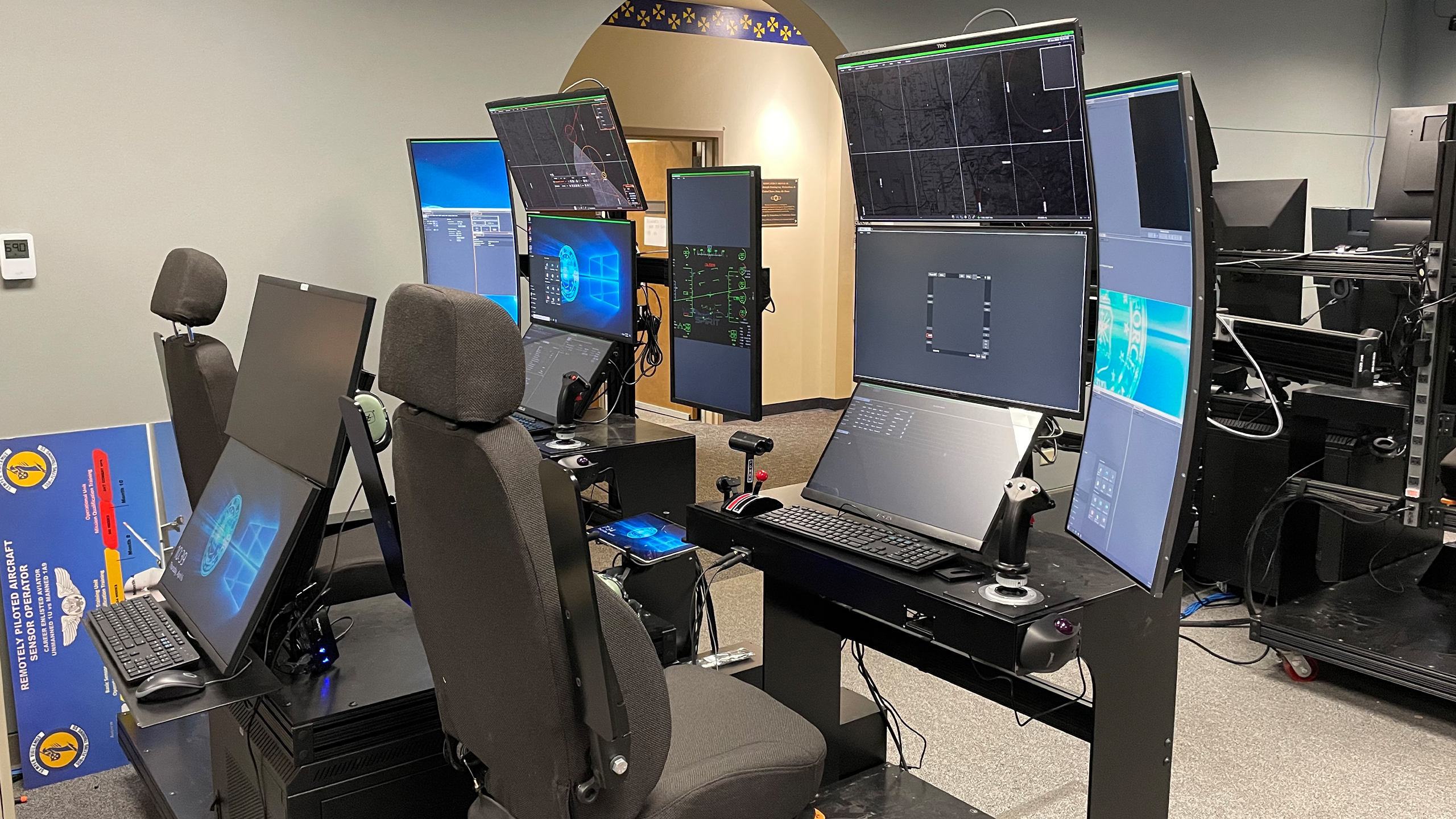 VRSG: Supporting USAF RPAS pilot training from undergrad to MQ-9
VRSG is now providing visuals for 52 brand new Vigilant Spirit RPAS simulators being used to train USAF 558th Flying Training SQDN undergraduates on RPAS fundamentals. Multi-viewport licensing allows 26 VRSG systems to provide visuals for all 52 sims; each VRSG provides scene generation requirements for two RPAS platforms, each consisting of a forward looking EO/IR sensor camera and an articulating down-view sensor camera.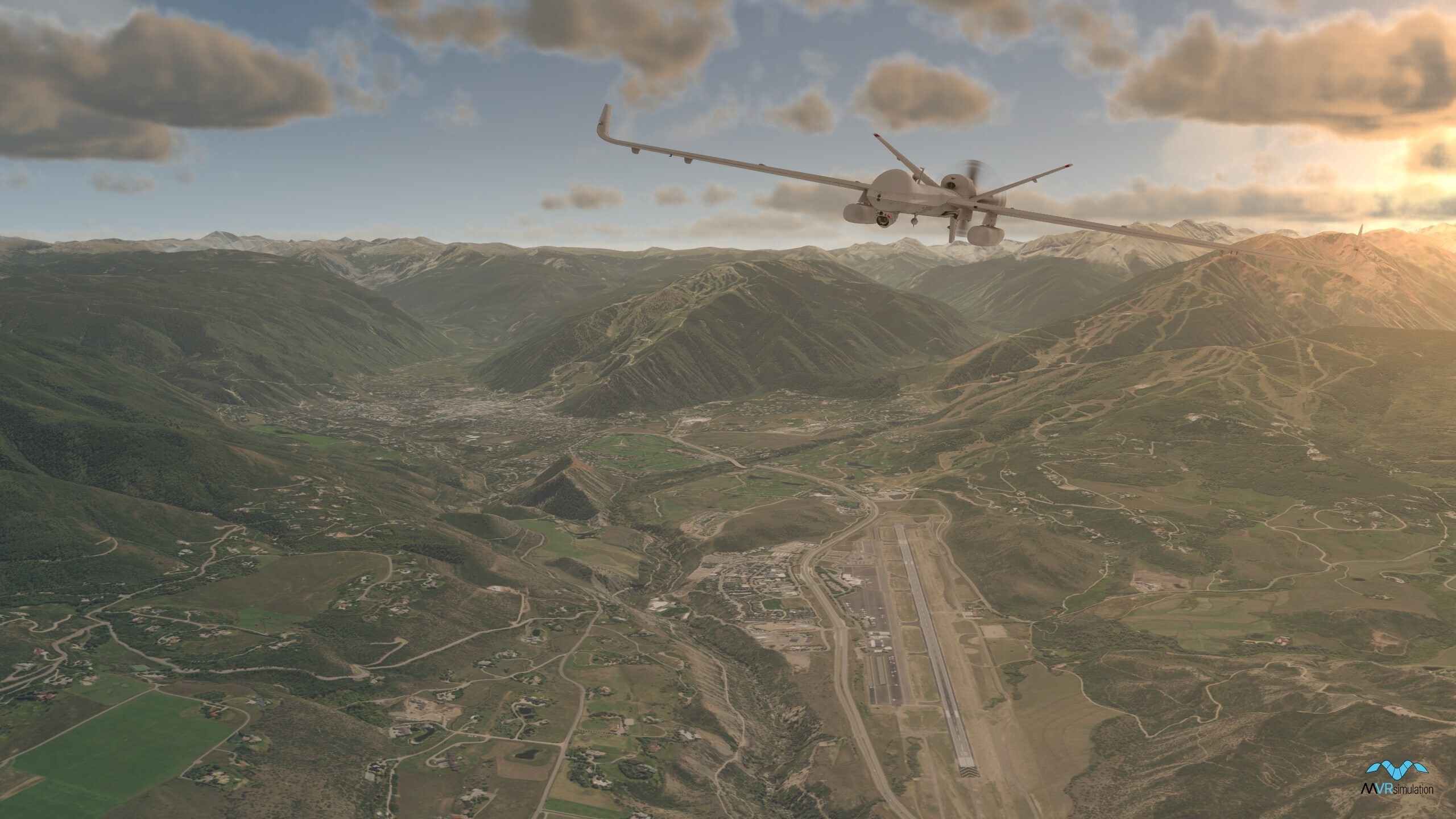 VRSG and Terrain Tools renewals for NITE synthetic training environment
The AFRL has renewed 56 VRSG and two Terrain Tools software licenses, confirming VRSG's continued role providing visuals for the Networked Integrated Tactical Exercise (NITE) synthetic training environment. This customer began their VRSG journey with four licenses in 2012 – seeing that grow to 56 licenses today is a fascinating example of how VRSG can support training requirements as user programs mature over time.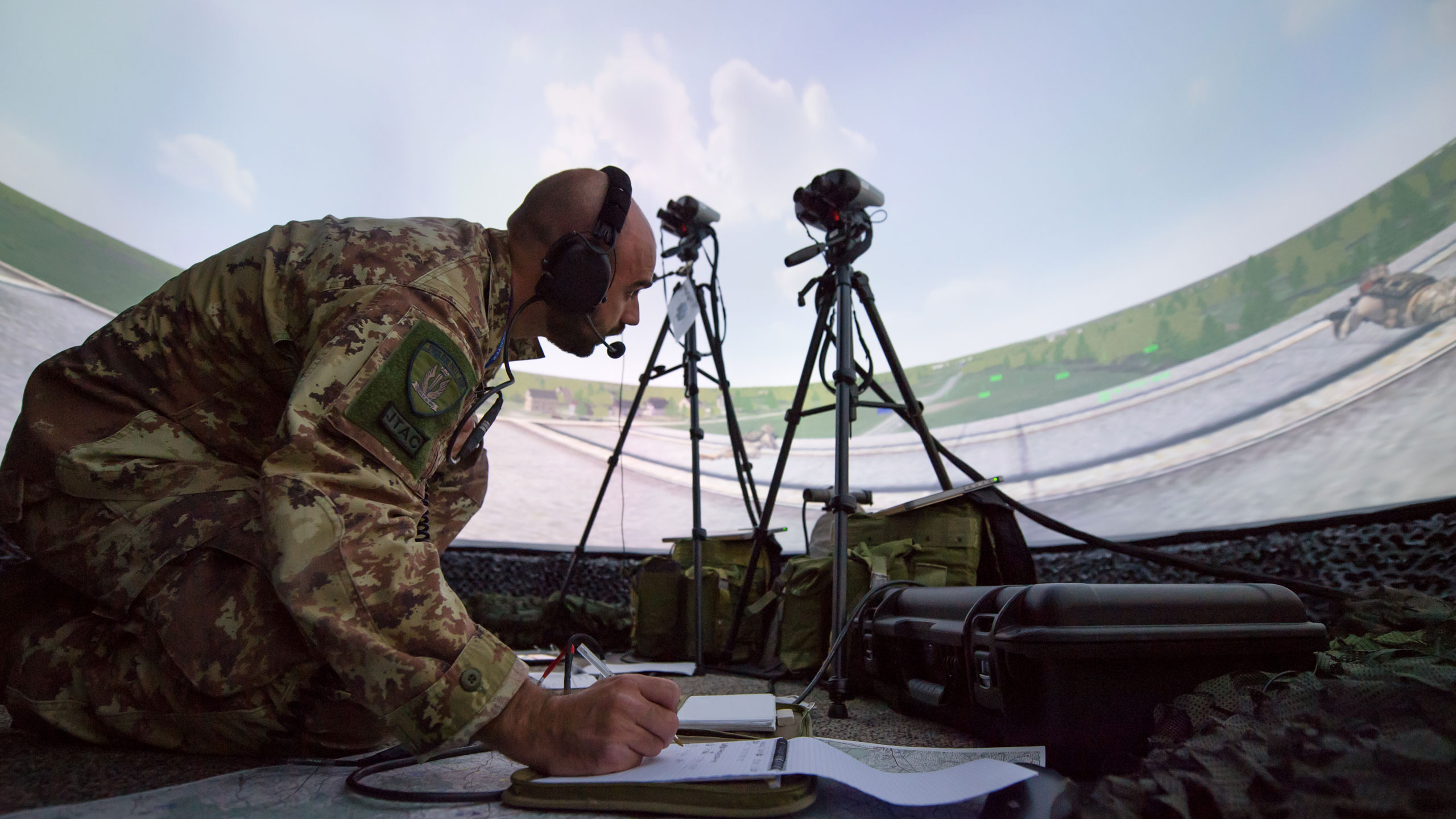 New and renewed VRSG licenses for USAF JTC TRS program of record
VSRG's critical role in the USAF's Joint Terminal Control Training and Rehearsal System (JTC TRS) program continues, with 18 new licenses ordered and a total of 48 licenses renewed, in both 2- and 6-viewport configurations. VRSG provides visuals for the simulator's dome display, simulated sensor feed for video receiver devices, and emulated military equipment, including both high-resolution terrain and 3D models.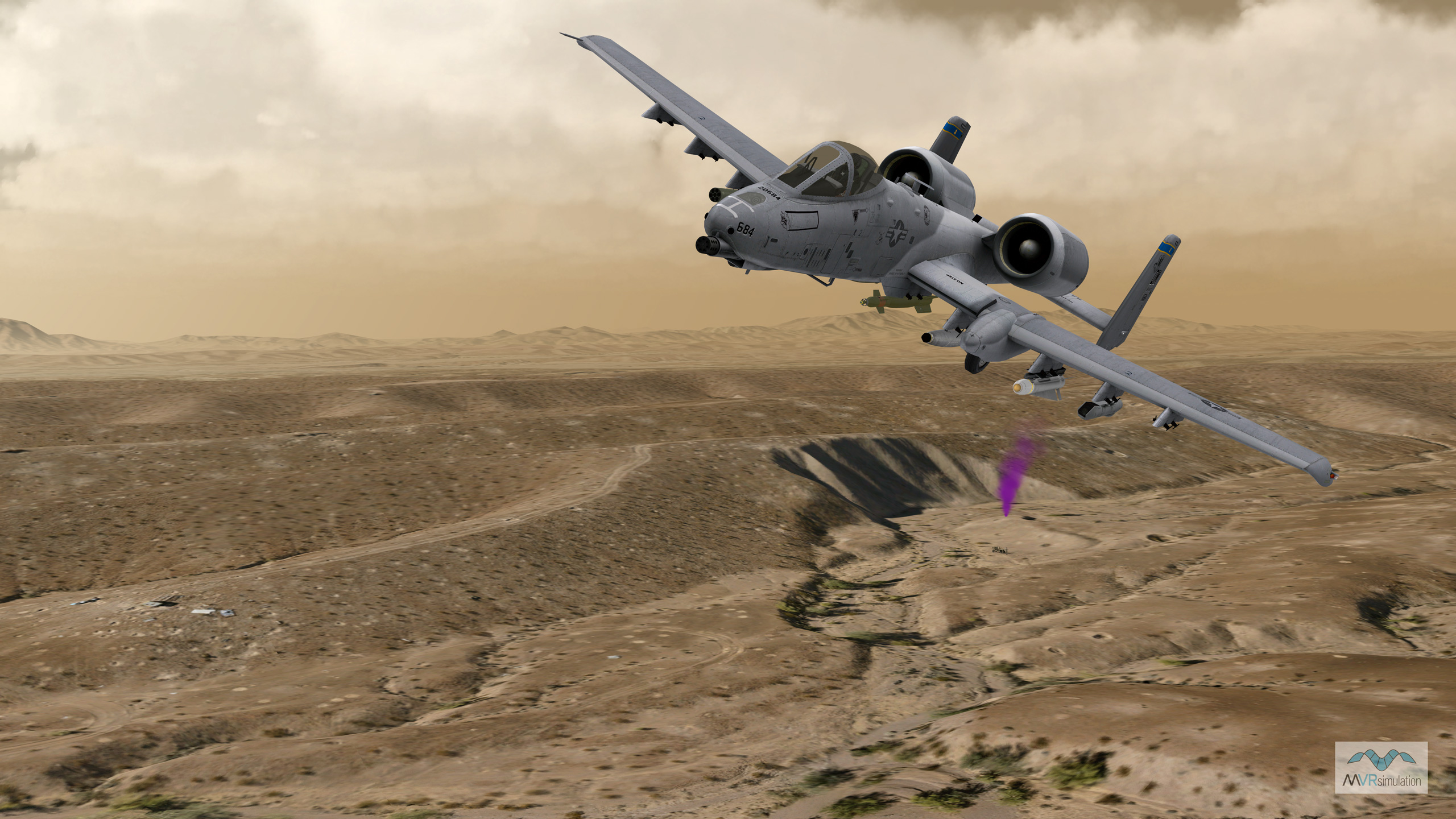 VRSG renewals for USAF A-10 Full Mission Trainer
The USAF A-10 Aircrew Training System program has renewed 384 VRSG licenses and five Terrain Tools licenses. The A-10 Full Mission Trainer, which has used VRSG since 2001 at ten Air Force sites, trains pilots for close air support missions in conjunction with JTAC simulator systems. VRSG provides out-the-window and sensor view visuals for the system, including the A-10 Maverick missile and Sniper Advanced Targeting Pod.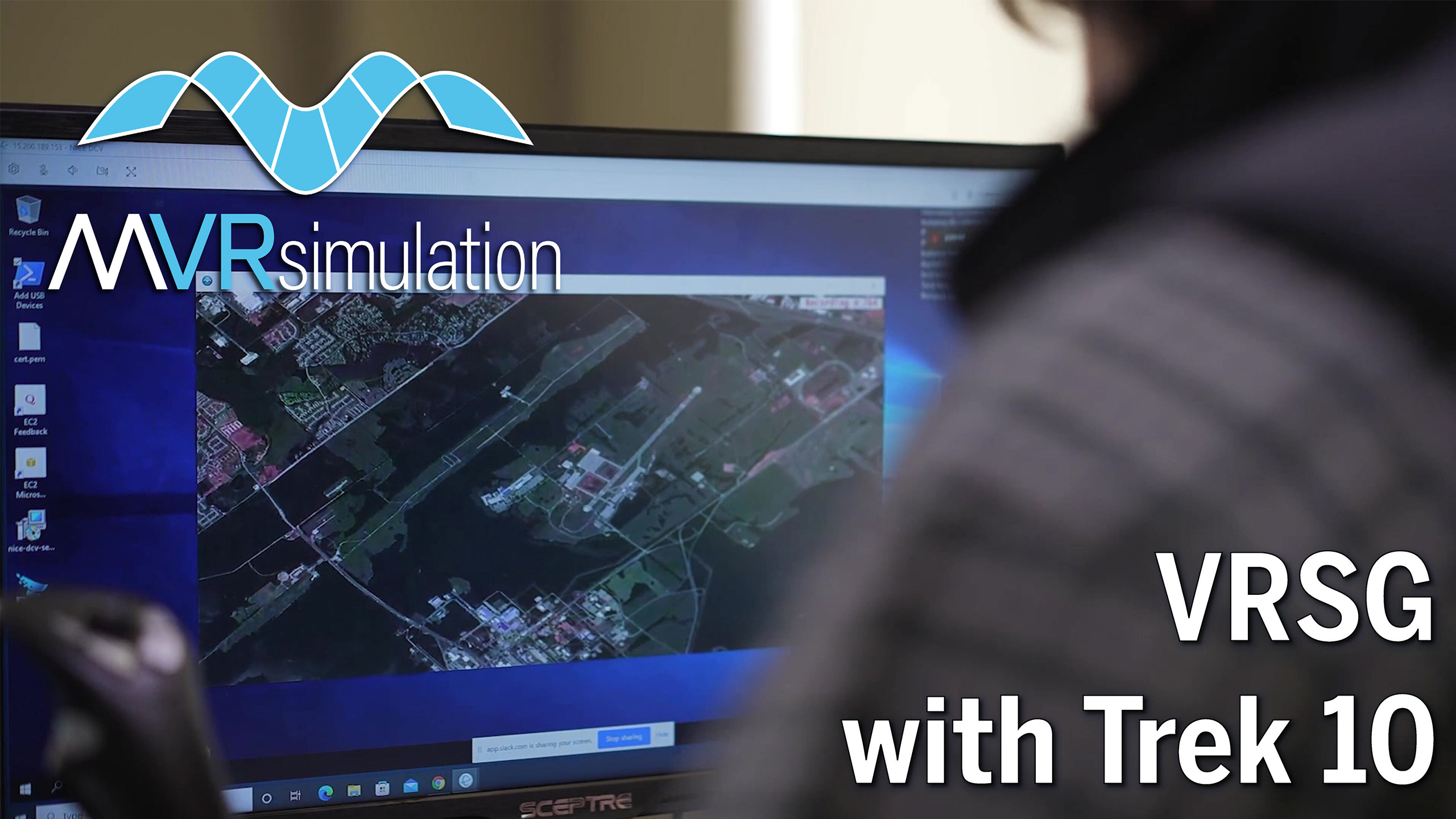 VRSG heads to the clouds with Trek10 integration
Users of the US DoD's critical Multiple Unified Simulation Environment (MUSE)/Air Force Synthetic Environment for Reconnaissance & Surveillance (AFSERS) simulation system have a new flexible way to run VRSG-supported training via the cloud. Trek10 has introduced a new cloud implementation for MUSE/AFSERS, allowing users to run training RPAS scenarios remotely on-demand via cloud native technologies.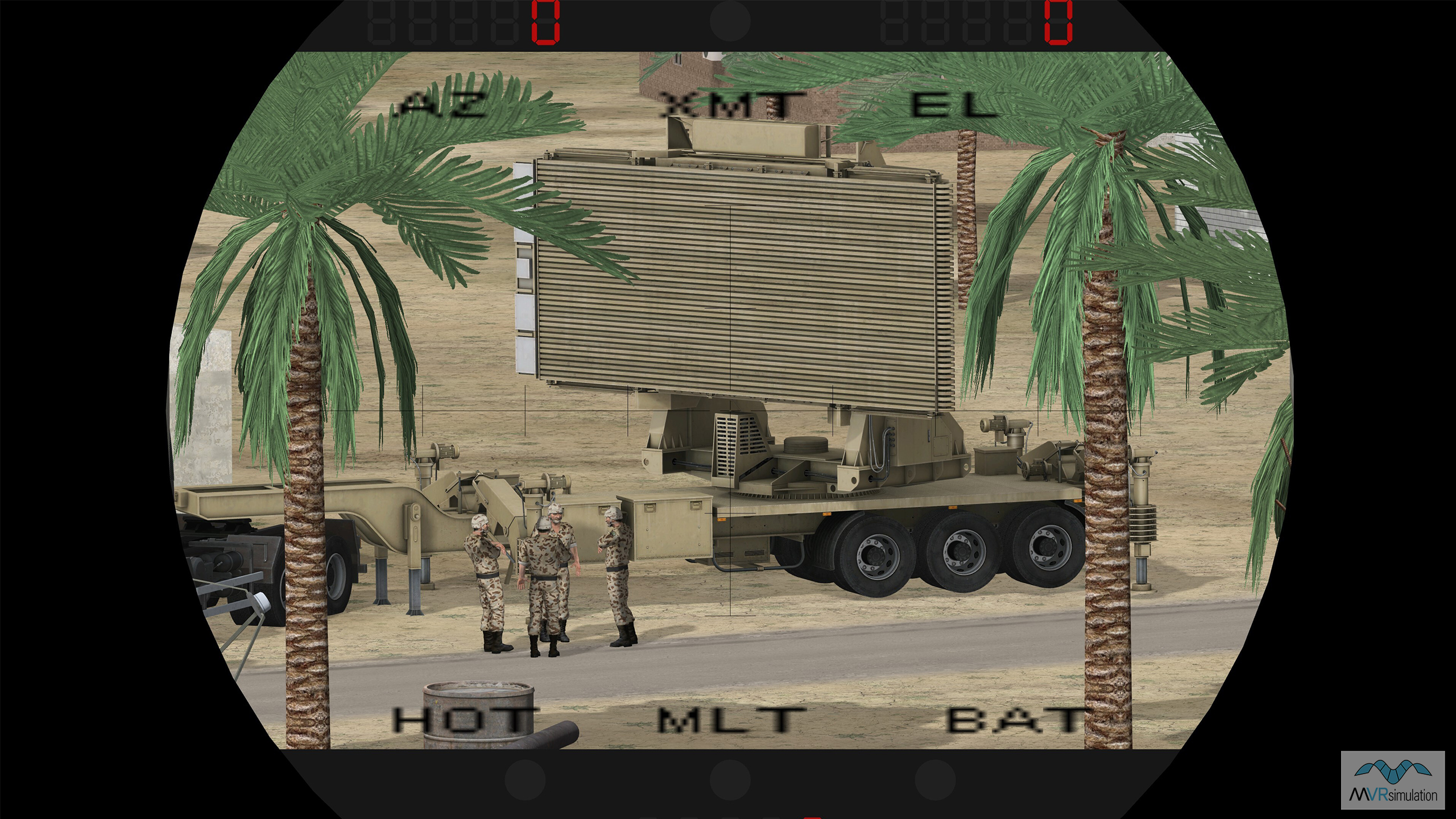 VRSG supports USAF air-ground training with JTAGGS
VRSG's support for USAF JTAC, TACP and FO training goes far beyond the DJFT. VRSG is embedded increasingly deeply in the Air Force's wider training infrastructure for CAF-DMO compliant air-ground operations training, including the Joint Theater Air-Ground Simulation System (JTAGSS) - a total air-ground constructive simulation environment designed to enable integrated networked training & mission rehearsal capability.
New Terrain and 3D Models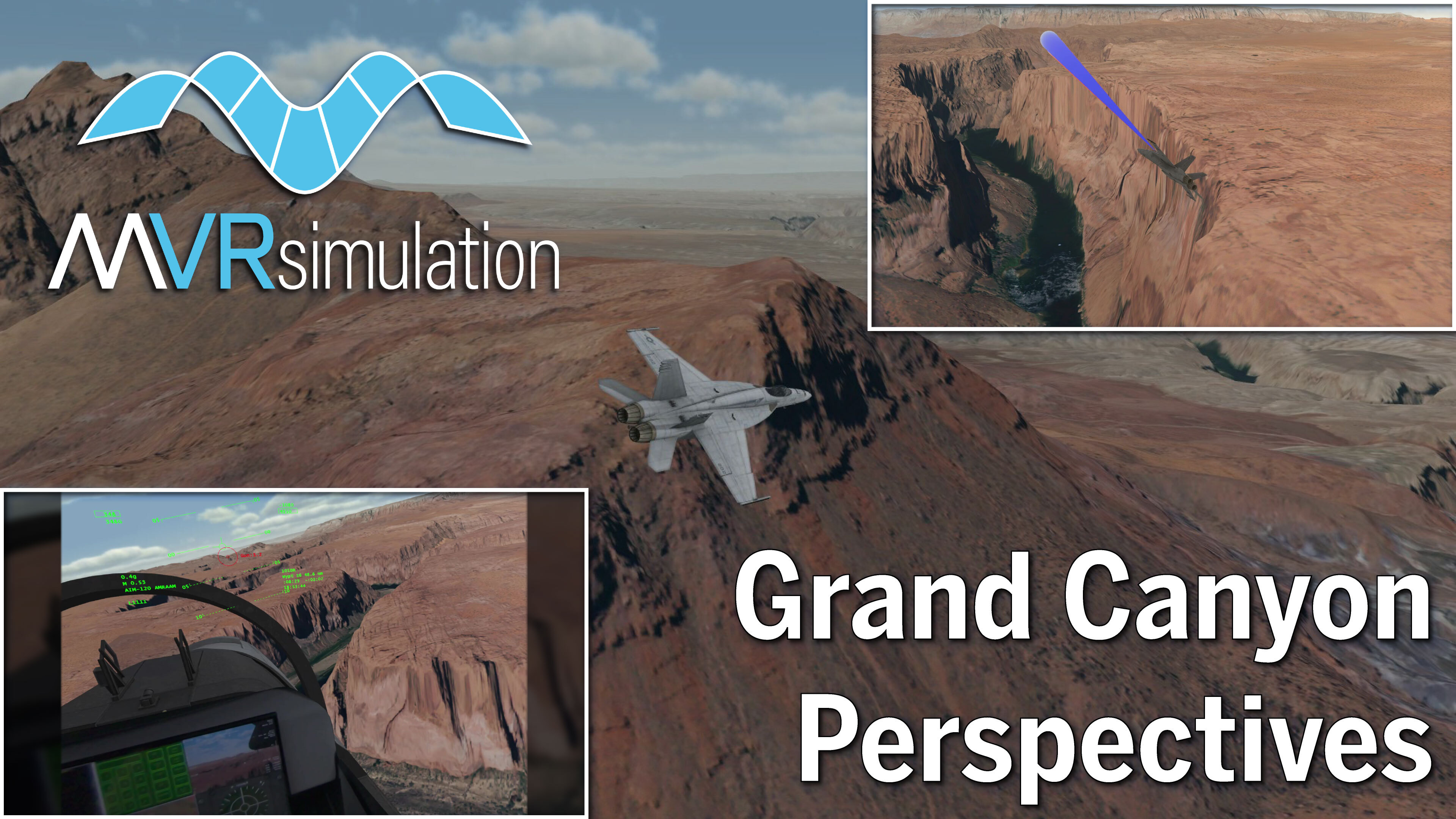 Come fly with us over our new Grand Canyon terrain
Our new Grand Canyon high-resolution inset is now available for download by all VRSG users on active software maintenance license. Take a flight through one of our most beautiful terrains yet, recorded here on the fixed-wing Part Task Mission Trainer (PTMT) with the Varjo XR-3 mixed-reality headset.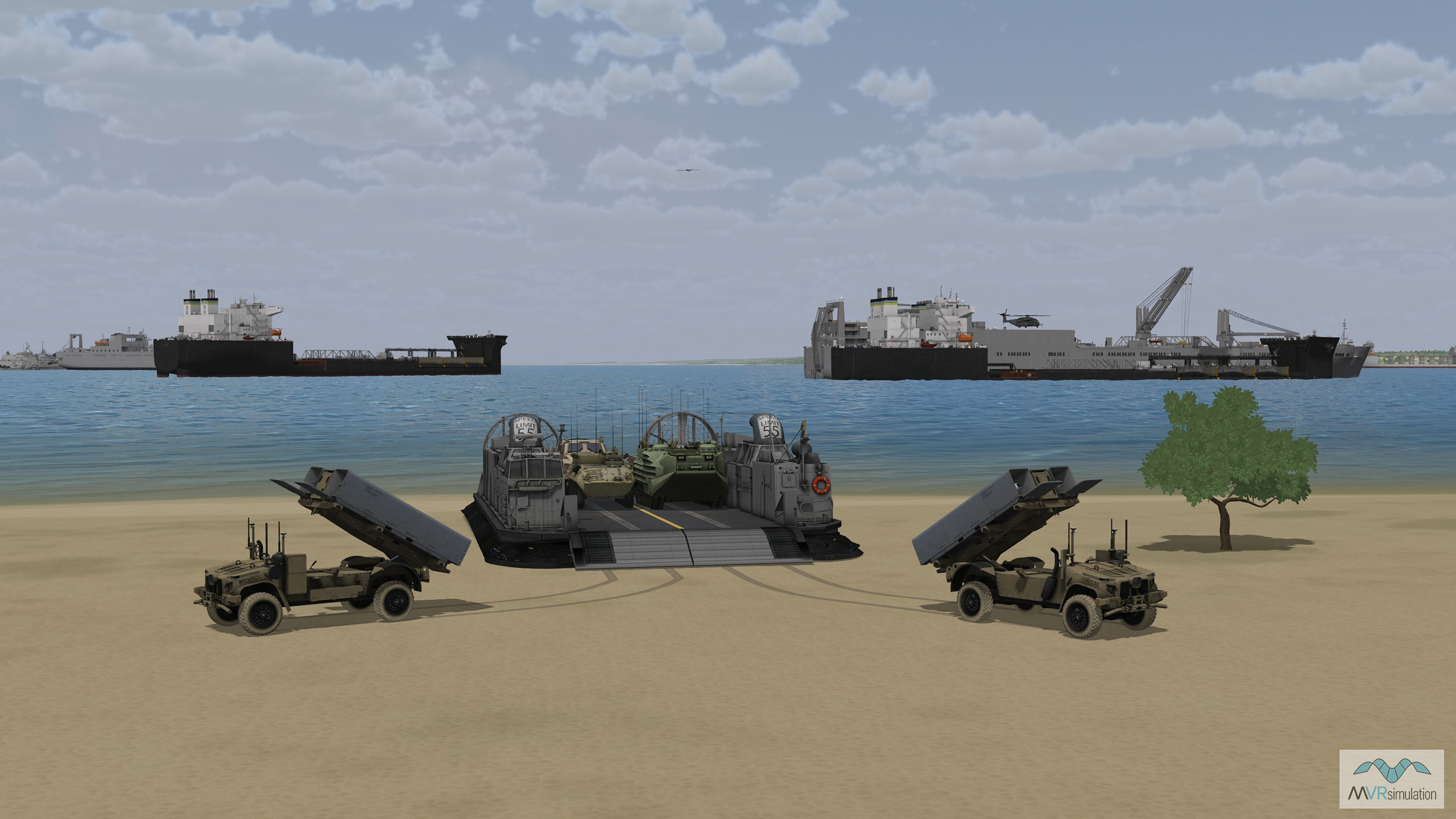 New 3D real-time entities added to VRSG model library
From the USMC's unmanned JLTV-based ROGUE Fires complete with RGM-184A missile launcher; to China's Peoples' Liberation Army YLC-8E long range anti-stealth radar, and the Russian military's Club-K Missile Container Launcher, browse all the newest additions to the VRSG 3D model library.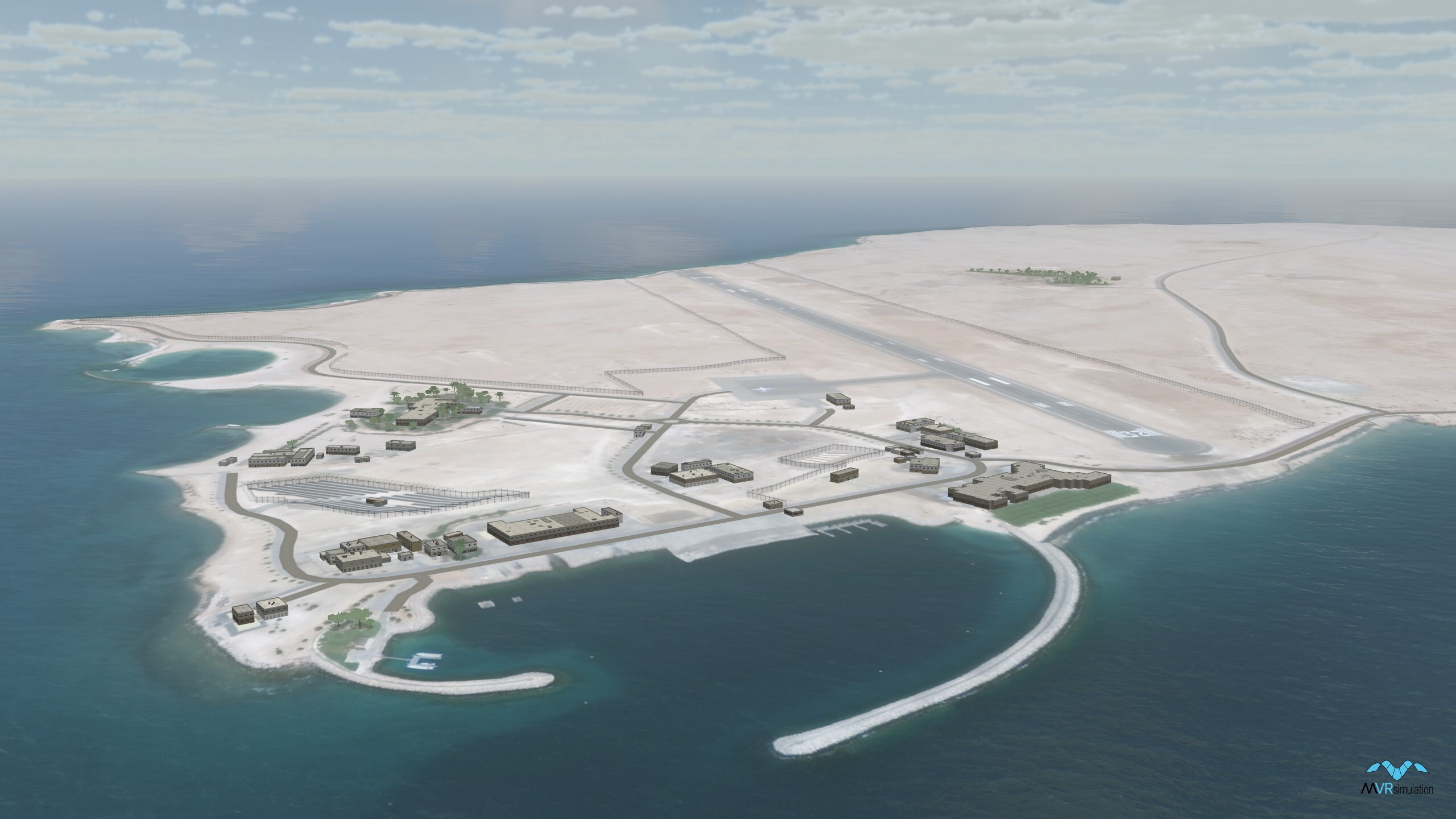 Brand new VRSG terrain: United Arab Emirates (UAE)
Check out VRSG's new UAE terrain, which covers a large region of the Abu Dhabi District in the North-West of the country. Produced using 50cm imagery and 30m SRTM elevation data, this new terrain is available to download as part of VRSG's Asia region terrain drive for users on active software license.
Got questions, comments, requests, general wonderings? We want to hear them!

Please send new inquiries to sales@mvrsimulation.com.

To talk about your requirements for new build terrain please email us at terrain@mvrsimulation.com, and for 3D models find us at models@mvrsimulation.com - don't forget that VRSG users on active software maintenance can download new terrain datasets and 3D models at no extra cost.

Help and guidance for existing users of any MVRsimulation software can be accessed by contacting the support team at support@mvrsimulation.com.

Finally, to arrange a demonstration of any MVRsimulation software or simulator hardware, please email demos@mvrsimulation.com.
This electronic newsletter may be redistributed without restriction in any format as long as the contents are unaltered. Previous issues of MVRsimulation News can be found at https://www.mvrsimulation.com/aboutus/newsarchive.html

Copyright © 2023, MVRsimulation Inc.
MVRsimulation Inc.
57 Union Ave.
Sudbury, MA 01776 USA

MVRsimulation, the MVRsimulation logo, and VRSG (Virtual Reality Scene Generator) are registered trademarks, and the phrase "geospecific simulation with game quality graphics" is a trademark of MVRsimulation Inc. MVRsimulation's terrain architecture is protected by US Patent 7,425,952.

To unsubscribe from MVRsimulation News, send an email message to subscription-service@mvrsimulation.com indicating "Unsubscribe from Newsletter" on the subject line.

Please view our privacy policy at https://www.mvrsimulation.com/privacypolicy.html

This newsletter is in full compliance with the enrolled (final) text of bill S.877, which became law on January 1, 2004, and which allows the sender to transmit unsolicited commercial electronic mail so long as the message contains an opt-out mechanism, a functioning return email address, and the legitimate physical address of the mailer.