MVRsimulation at I/ITSEC 2019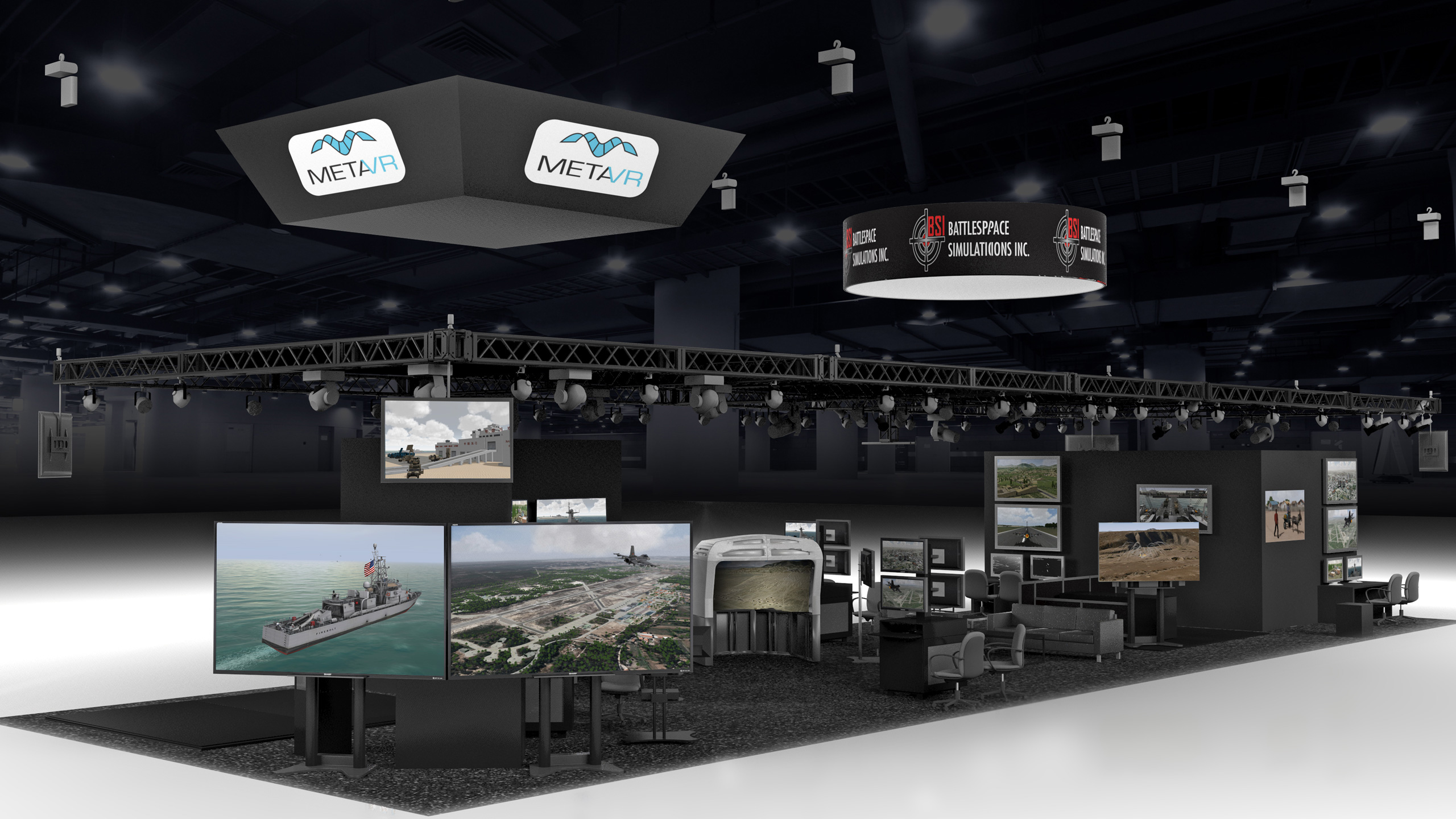 Illustration of MVRsimulation's 30' x 90' booth at I/ITSEC 2018.
MVRsimulation exhibited their products and technology in Booth #1348 at the Interservice/Industry Training, Simulation and Education Conference and Trade Show (I/ITSEC), held December 2-6, 2019, at the Orange County Convention Center, Orlando, FL, USA.
MVRsimulation demonstrated its terrain and visualization products and technologies that support applications ranging from unmanned air system (UAS) operator and Joint Terminal Attack Control (JTAC) training, to high-speed fixed-wing cockpit simulators, to littoral and marine-based operations and individual/first-person ground-level urban operations. Scenarios were rendered in the latest version of VRSG, version 6.4, which features dynamic object-on-object shadows, as well as self-shadowing. Our goal is to support shadows on a large scale so that sensor operators at altitude as well as troops on the ground all see the same scene when coordinating close air support.
MVRsimulation showcased a new joint fires mixed reality training scenario capability, using a notional F/A-18 Block III Part Task Mission Trainer (PTMT) physical cockpit networked with our new Deployable Joint Fires Trainer (DJFT).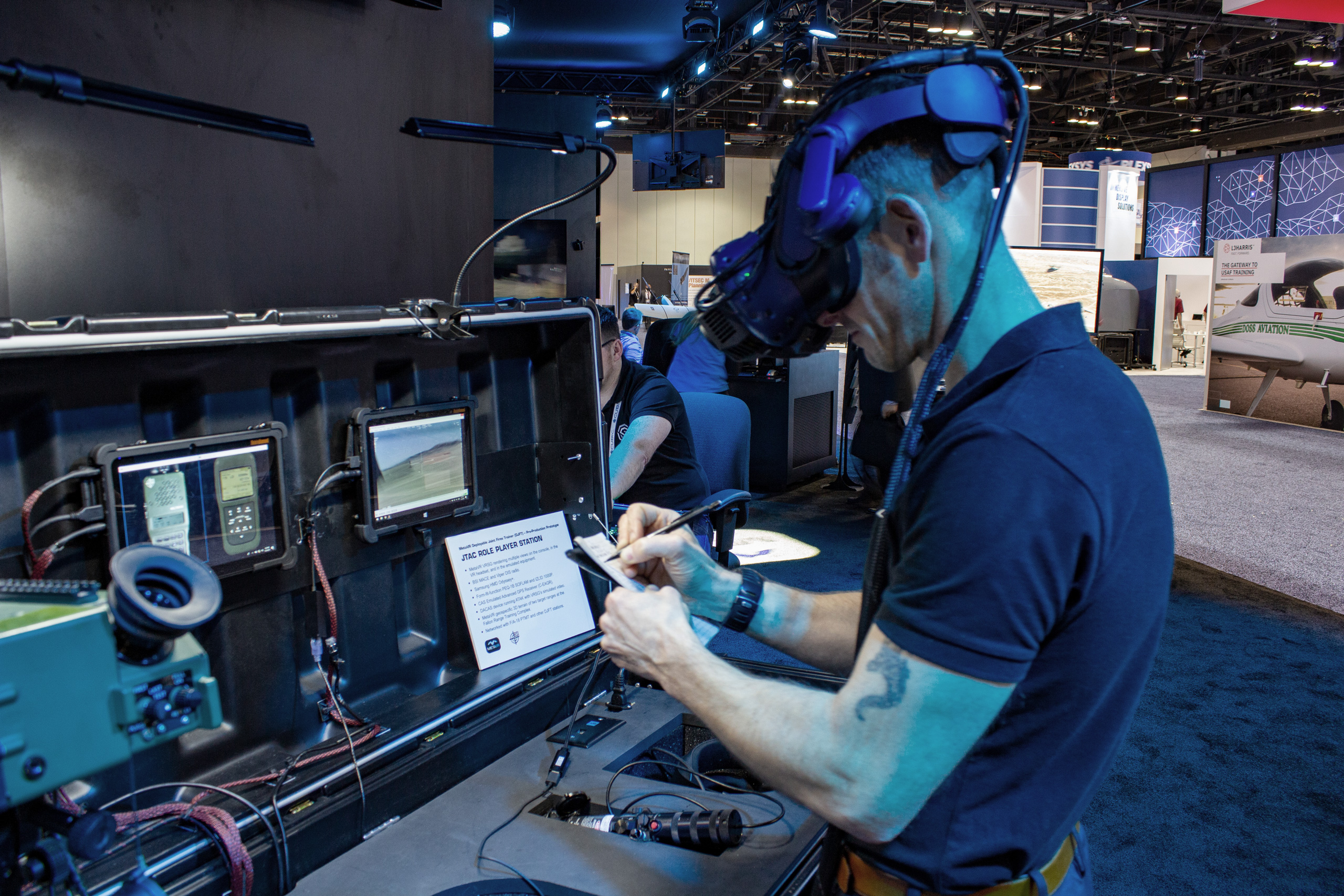 The DJFT JTAC station. The HTC Vive Pro is running VRSG, augmented with Collins Aerospace's Coalescence mixed-reality system. Notice the JTAC can read/write while wearing the HMD.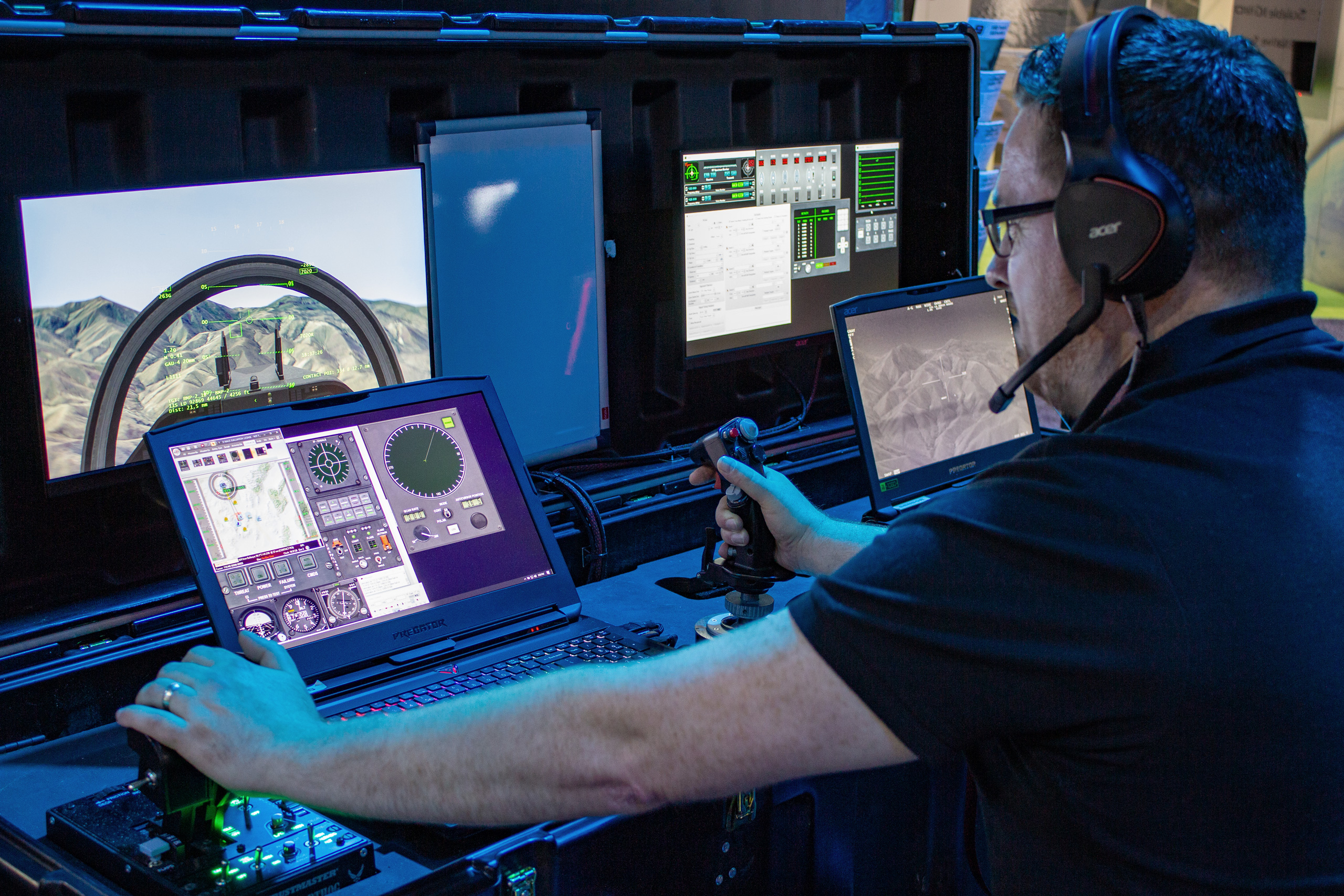 The DJFT aircrew station with VRSG and BSI MACE. VRSG is rendering the out-the-window view and the sensor view on the far right. (Demo conducted by D3A.)
The DJFT is a newly designed system that provides a quick deploy capability for joint terminal attack controllers (JTACs) and forward observers (FOs) to train alongside fixed- and rotary-wing aircrew within a fully immersive, joint training environment. The modular plug-and-play DJFT is comprised of three or more networked stations — aircrew operator station (AOS), JTAC/FO role player station, and the instructor operator station (IOS) — each fully contained within two-person portable ruggedized cases. The DJFT contains all the hardware required to run dynamic, full-spectrum JTAC/joint fires training scenarios, including notebook computers, GPS receiver, and communication systems. In addition to MVRsimulation's VRSG and 3D content, the solution features Battlespace Simulations' (BSI's) Modern Air Combat Environment (MACE) for generating air and ground entities, threat planning, and 5-Line, 9-Line, and call-for-fire interfaces including digitally aided close air support (DACAS). The DJFT was networked with the F/A-18 PTMT at I/ITSEC.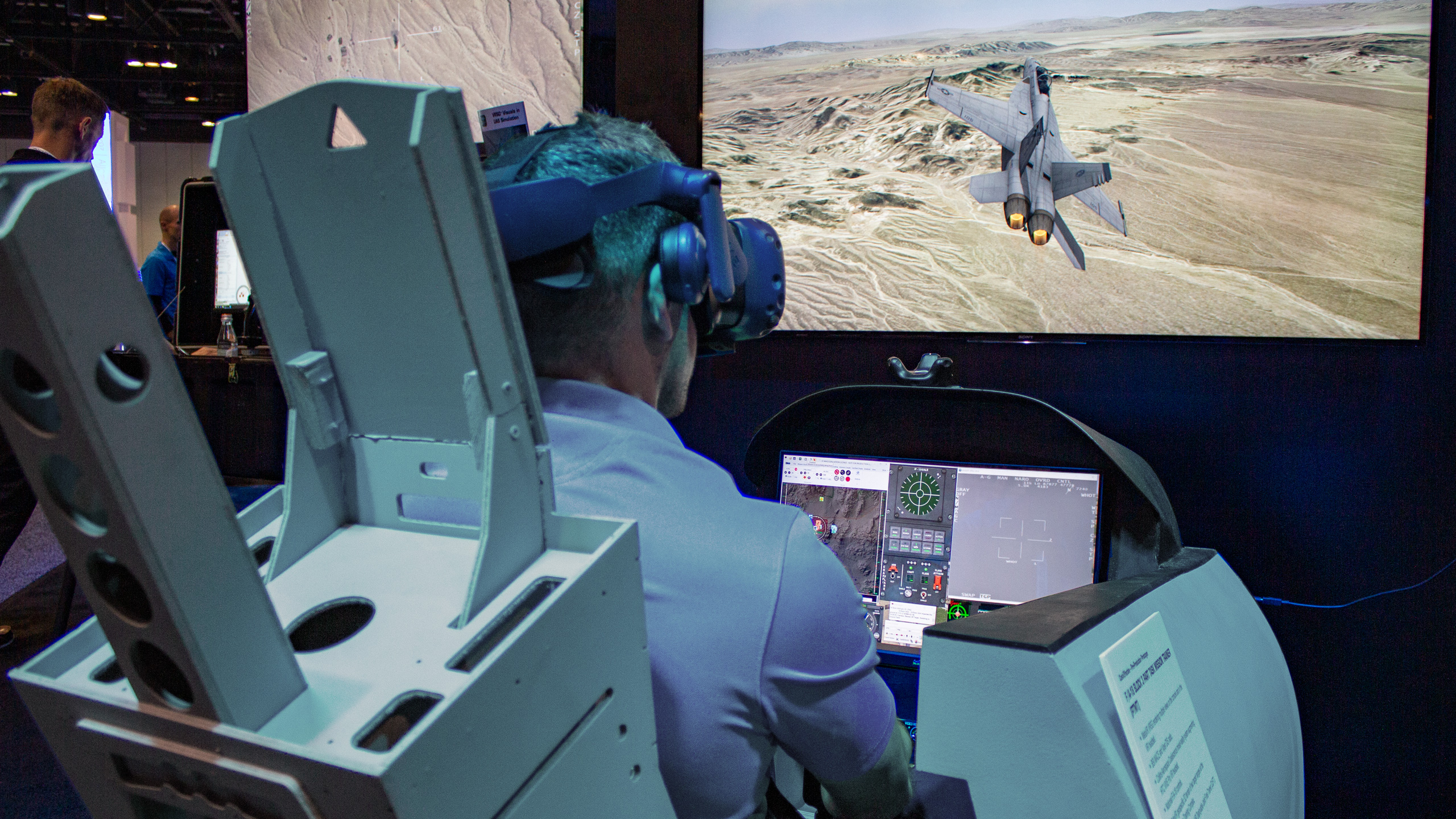 The Part Task Mission Trainer (PTMT) configured as an F/A-18 Block III cockpit at I/ITSEC 2019. The pilot (from D3A) is wearing an HTC Vive Pro running VRSG, which was augmented with Collins Aerospace's Coalescence mixed-reality system.
MVRsimulation's Fixed-Wing PTMT is a prototype to-scale physical cockpit simulator designed and built under an internal MVRsimulation development program. Designed as a low-cost, portable, quick-deploy mixed reality training solution, the system uses representative aircraft hardware and can be configured for mission training on 4.5 generation combat aircraft. For I/ITSEC demos, the Fixed-Wing PTMT was configured as a notional F/A-18 Block III cockpit. The simulator can function as a standalone training solution as part of joint, networked training operations. In addition to VRSG and MVRsimulation's 3D content, the PTMT features BSI's MACE for scenario generation, constructively generated forces, full spectrum real-time physics calculations, and tactical datalinks integration. The pilot in the PTMT wore the HTC Vive Pro system running VRSG, which was augmented with Collins Aerospace's Coalescence mixed reality system; the pilot could see their own hands and interact with the cockpit controls in the physical environment while immersed in the synthetic environment for the out-the-window (OTW) view. Demos were facilitated by D3A Defence, a veteran-run privately held company, which with combined experience of over 50 years of military service, brings extensive military knowledge and skillsets to all levels of training and simulation.
Elsewhere in the booth, MVRsimulation demonstrated its new 3D geospecific terrain dataset of Hajin, Syria, built in round-earth VRSG terrain format with the latest version of MVRsimulation Terrain Tools for Esri ArcGIS.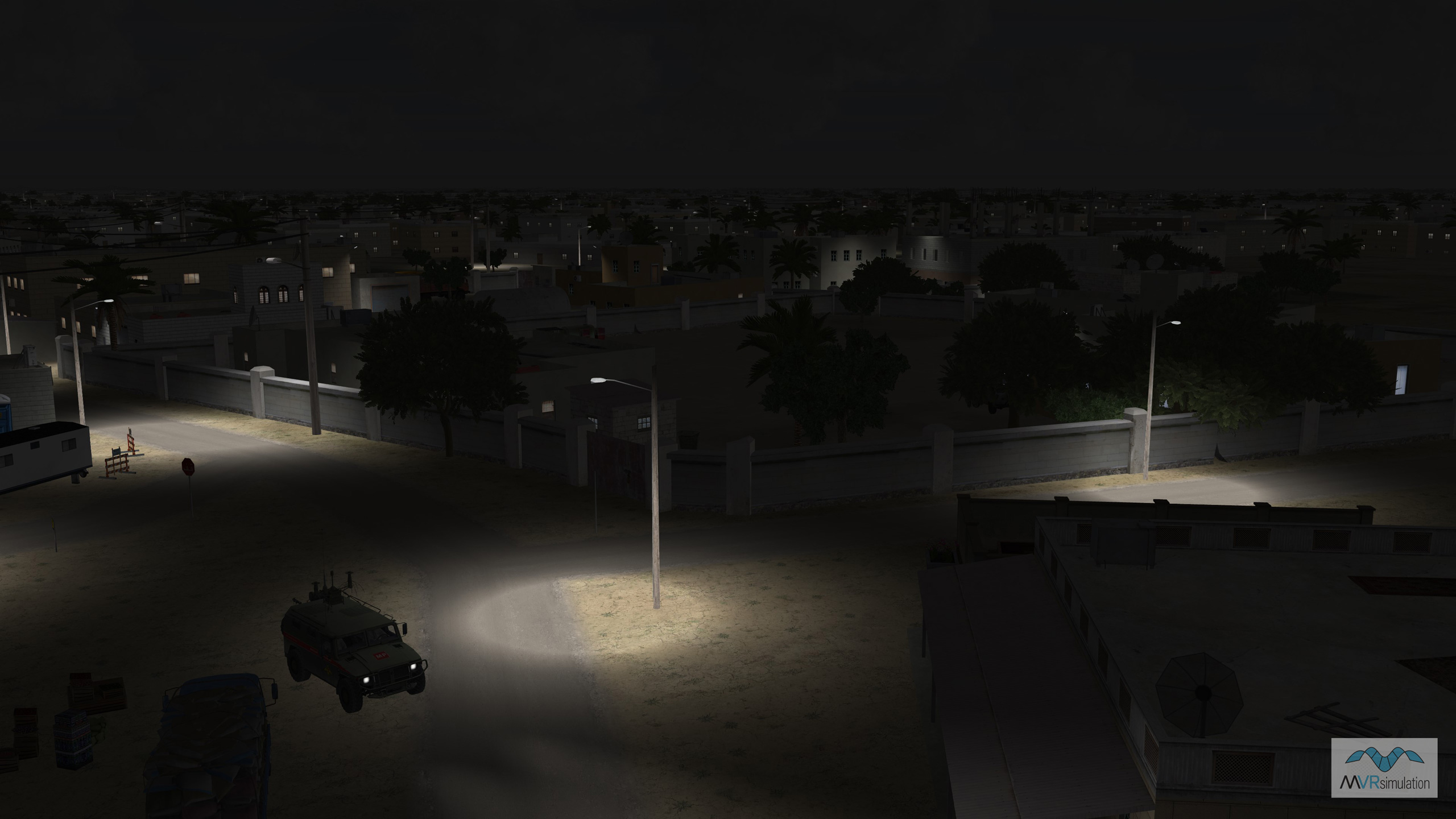 MVRsimulation VRSG real-time night scene of a Russian MP convoy traveling within virtual Hajin, Syria, terrain.
Below are photos of some demos in other booths that were running VRSG.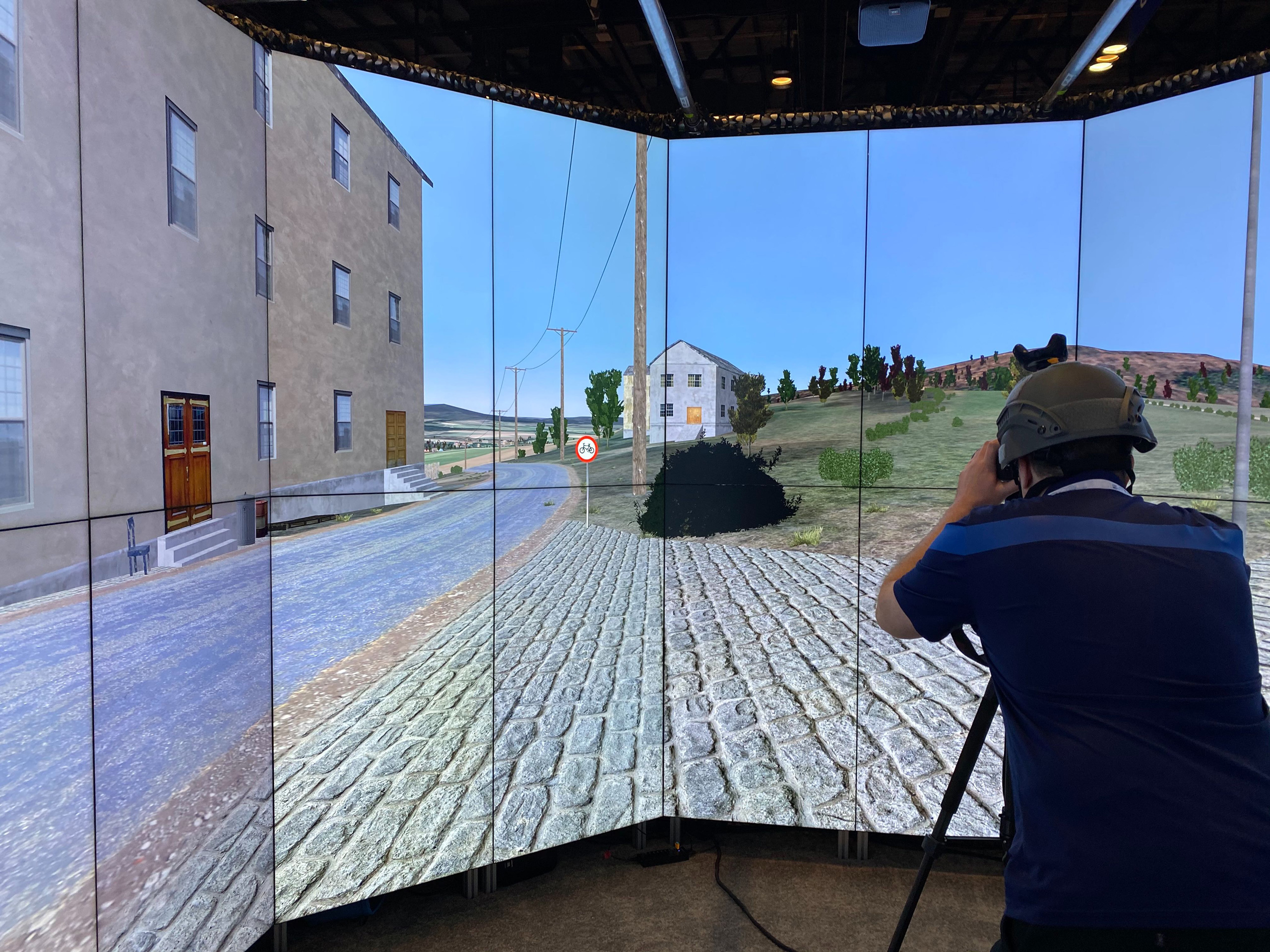 The Air National Guard and QuantsDyn's demo of the AAJTS Derivative Proof of Concept or ADPOC, nicknamed "Tardis."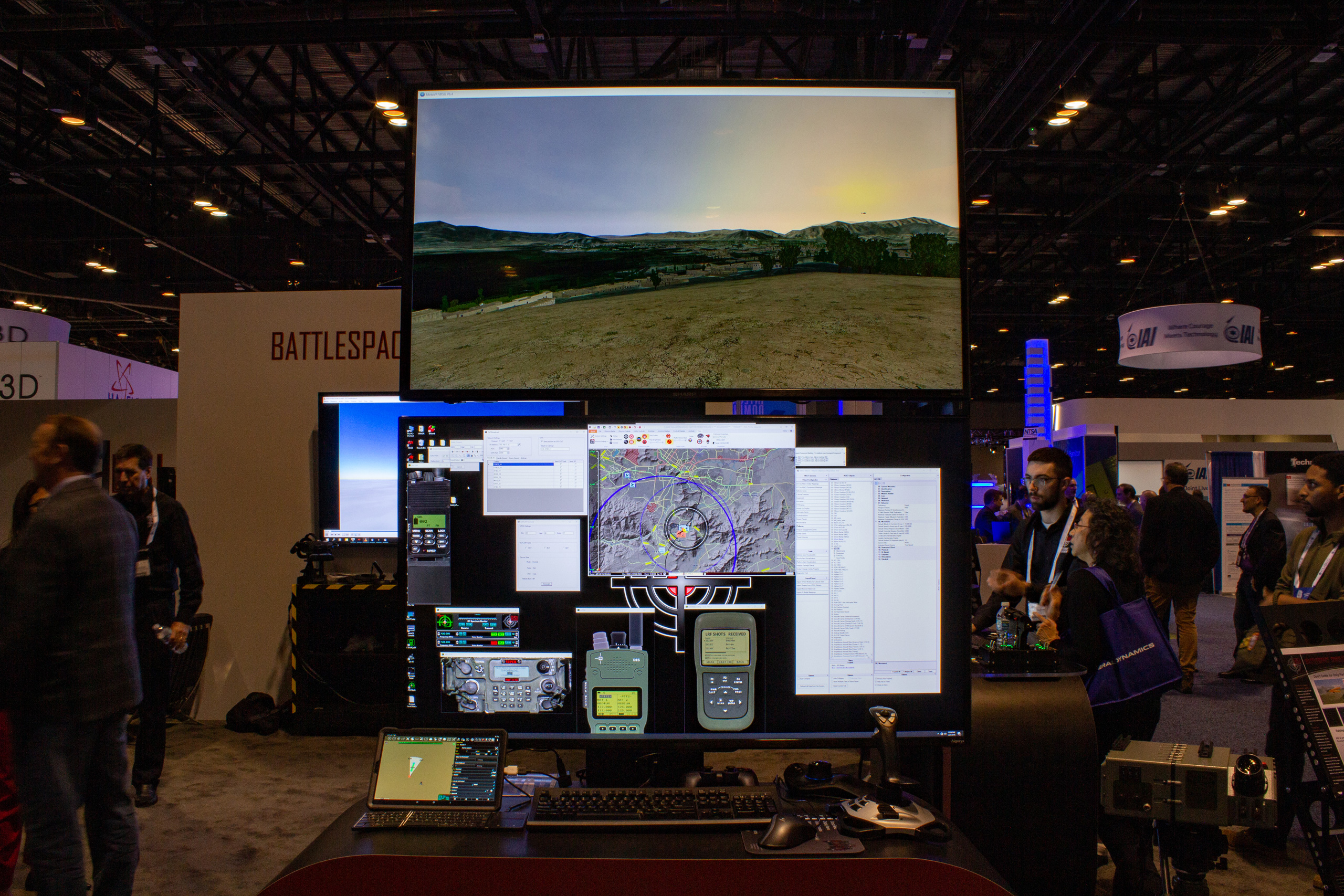 BSI's MACE, which uses VRSG to render the out-the-window and simulated sensor views.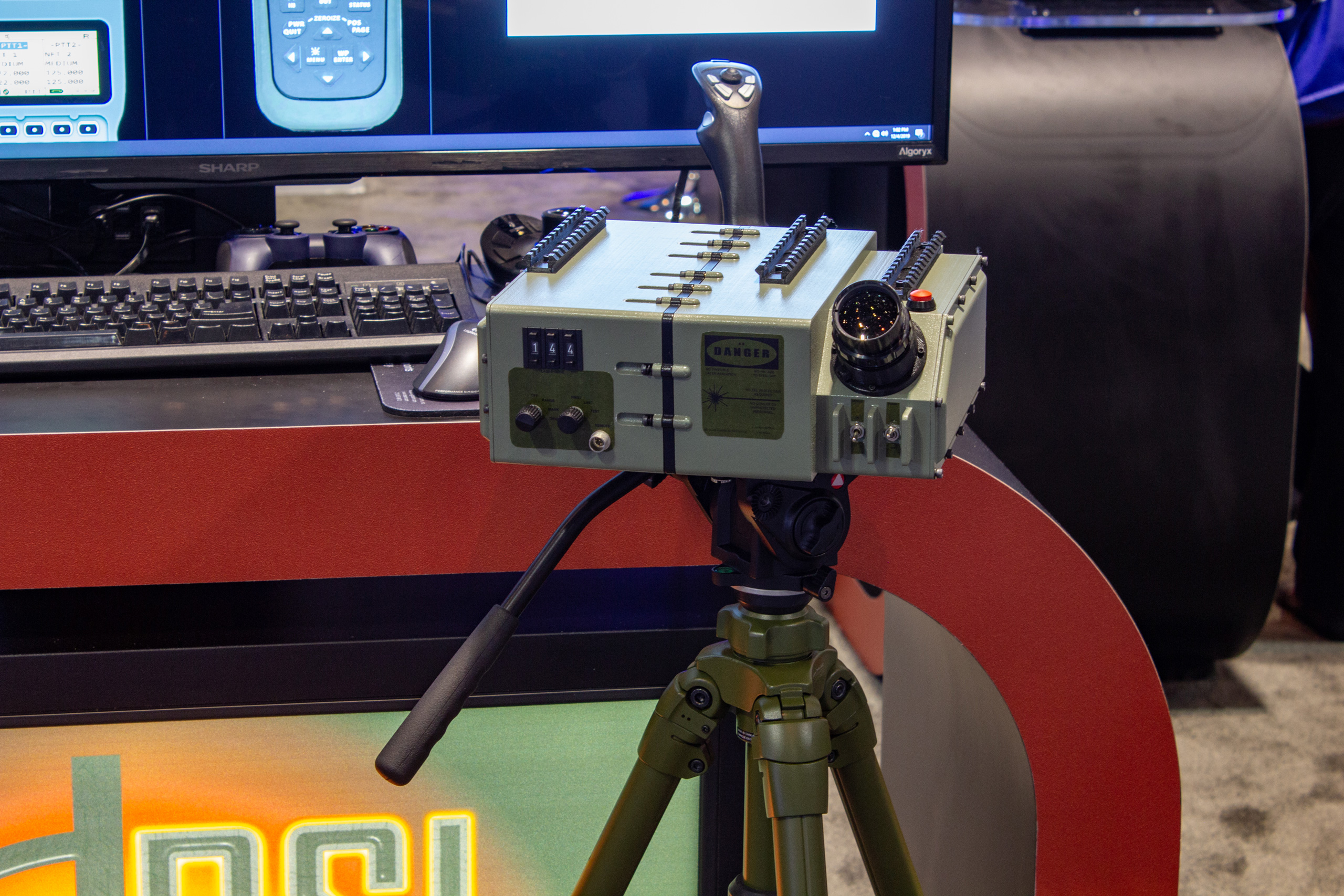 BSI's emulated SOFLAM, which uses VRSG to render the simulated view within the device.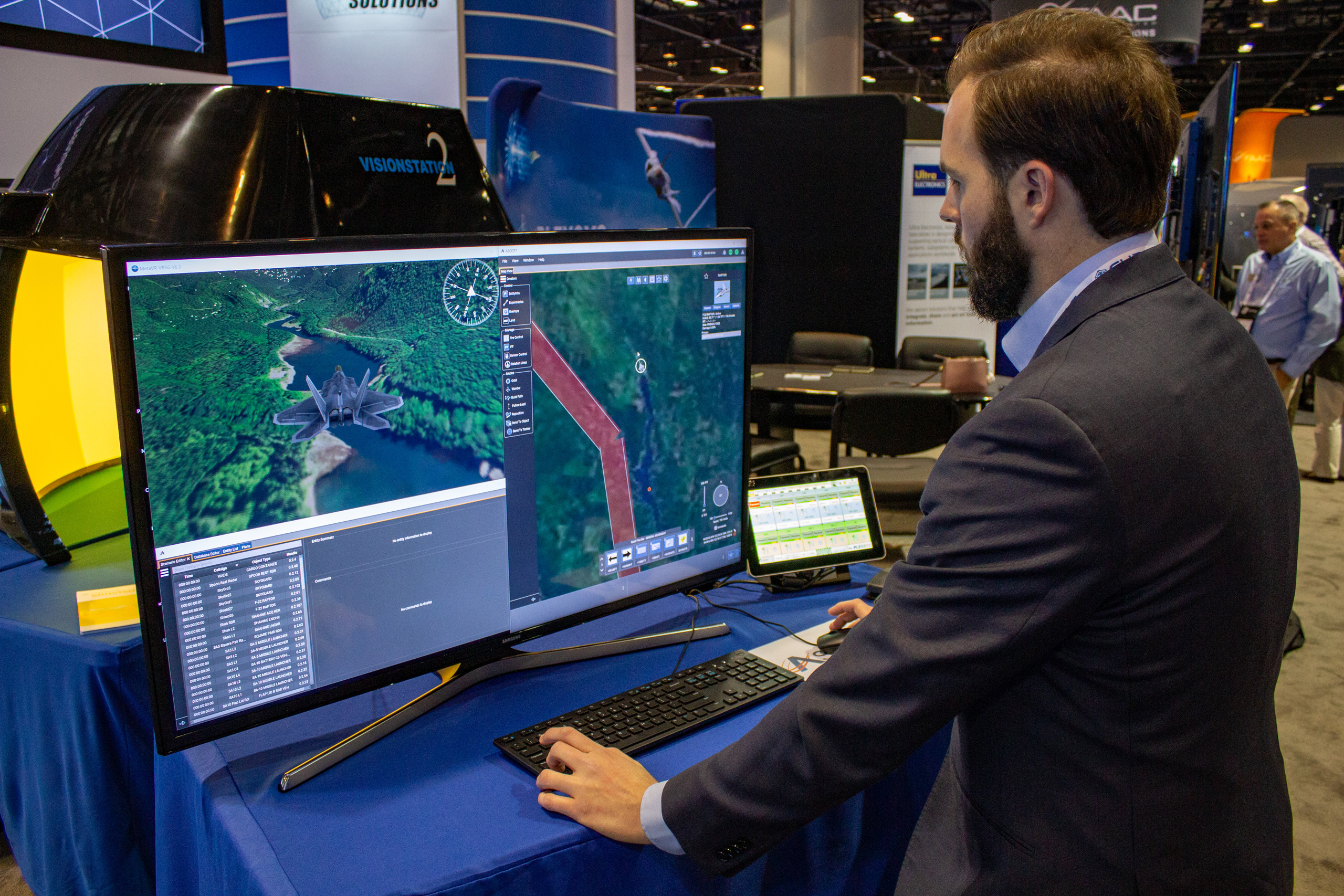 PLEXSYS demonstrated VRSG in its Advanced Simulation Combat Operations Trainer (ASCOT) 7 CGF platform, on MetaVR's geospecific terrain of the Oregon/Washington area.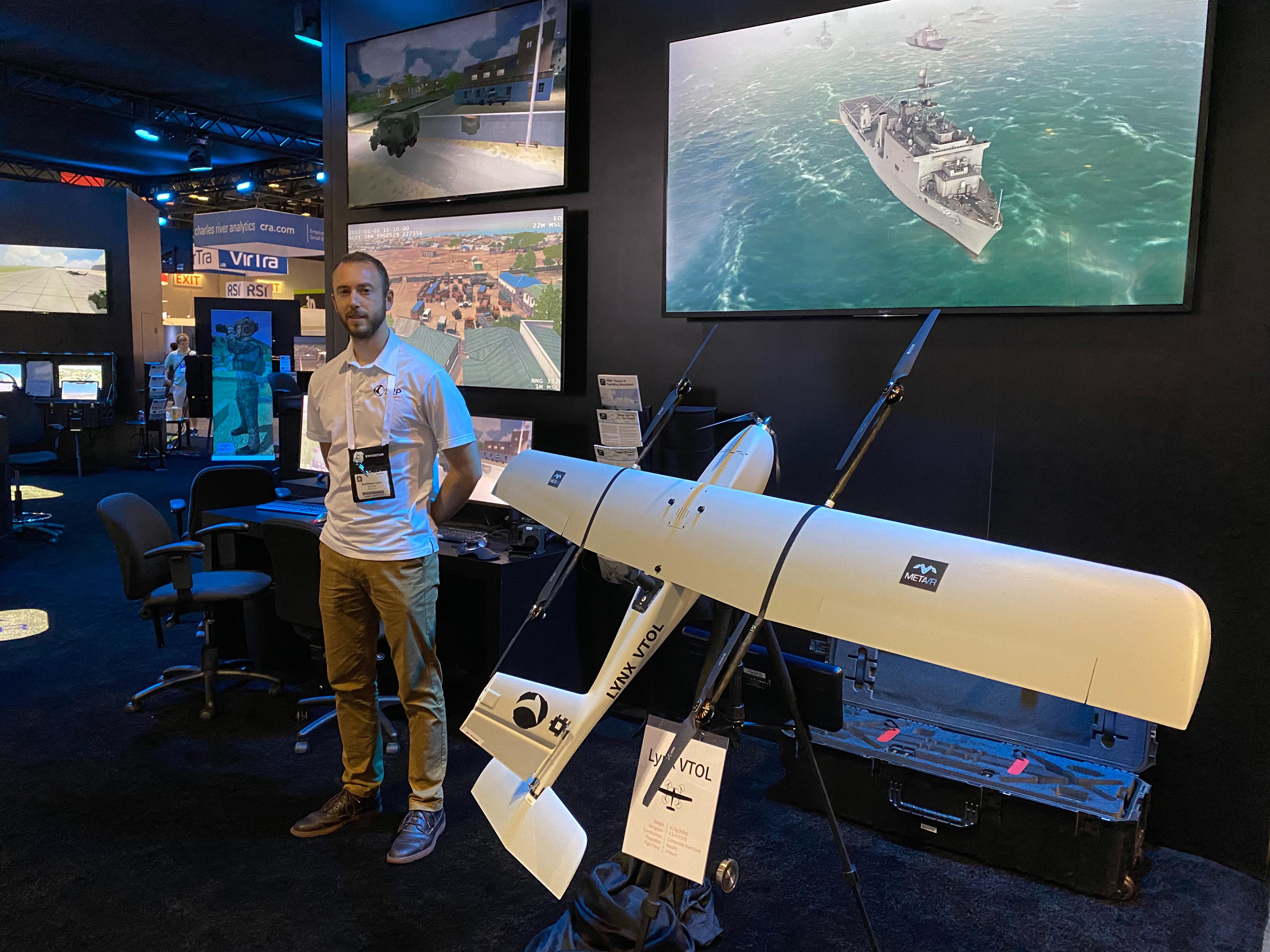 SRPaero, the creators of MVRsimulation's SUAS for collecting sub-inch geospecific imagery for real-time 3D terrain, demonstrated features of their latest SUAS built for autonomous aerial surveying, a VTOL hybrid.
TRU Simulation + Training's Adaptable Mission Trainer (AT-6 / T-6).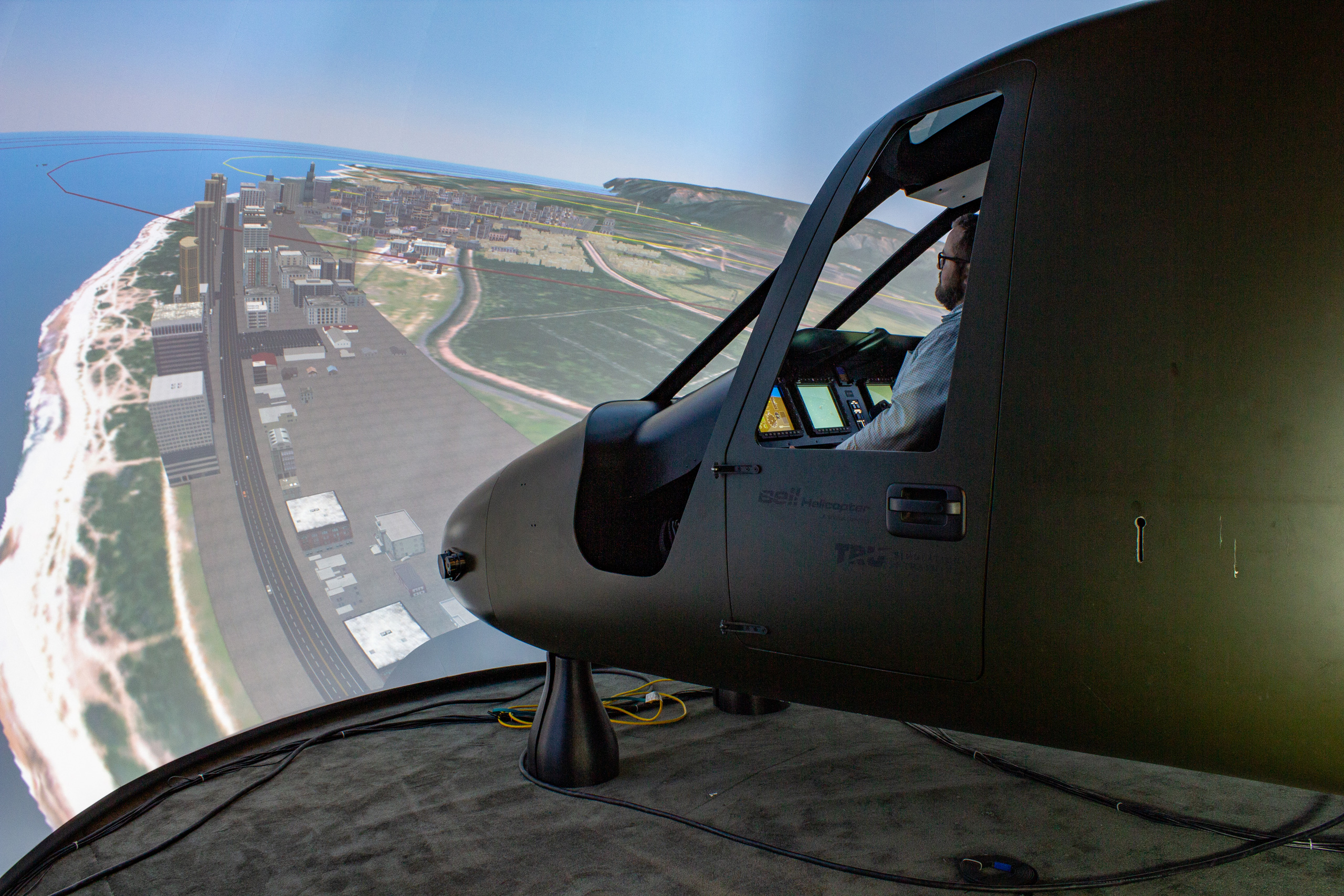 TRU Simulation + Training's V280 Demonstrator.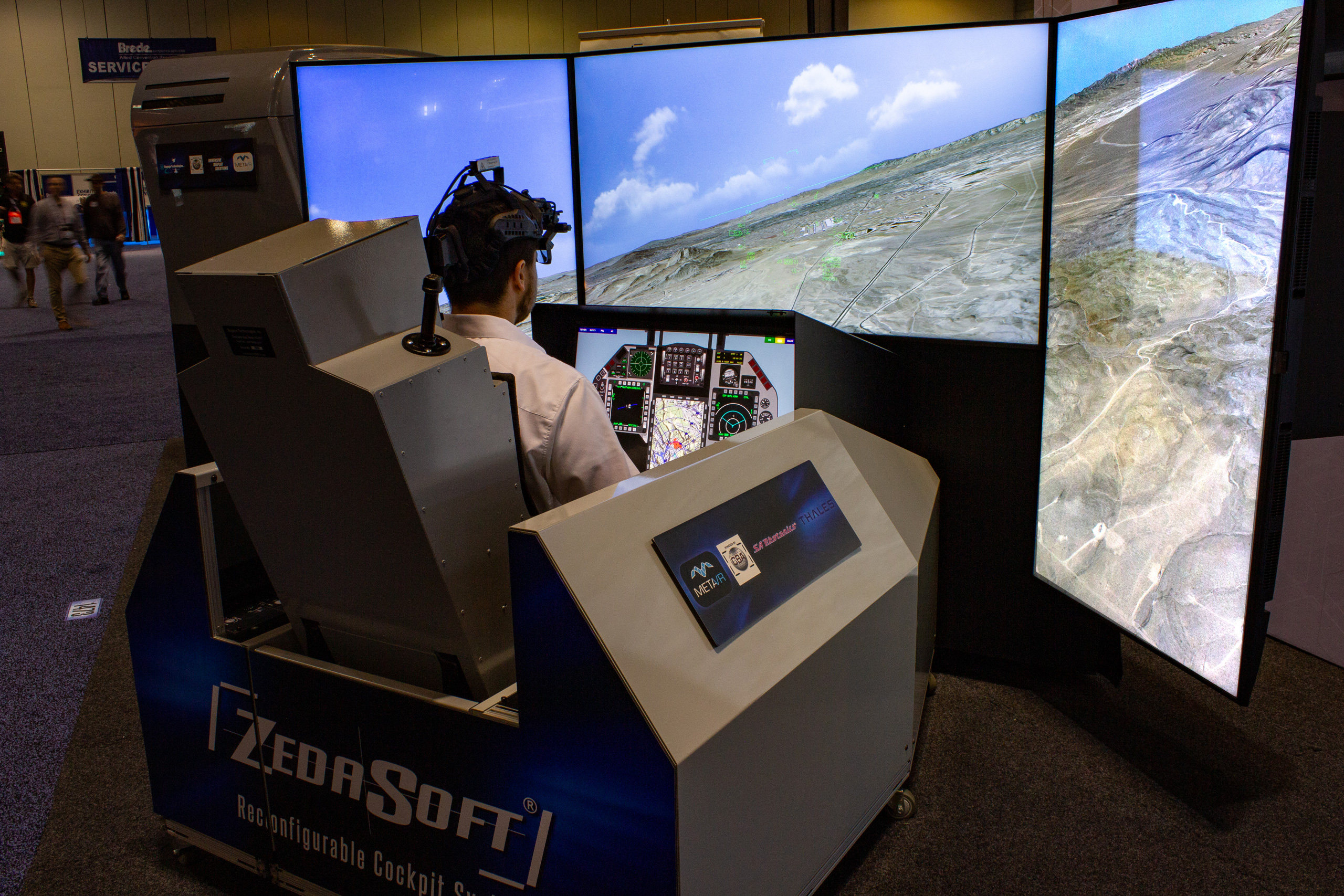 ZedaSoft's virtual cockpit running VRSG in an augmented reality (AR) environment. The pilot is wearing a SA-Photonics SA-62/S Helmet Mounted Sight (HMS) with a Thales/Intersense IS-1500 tracker.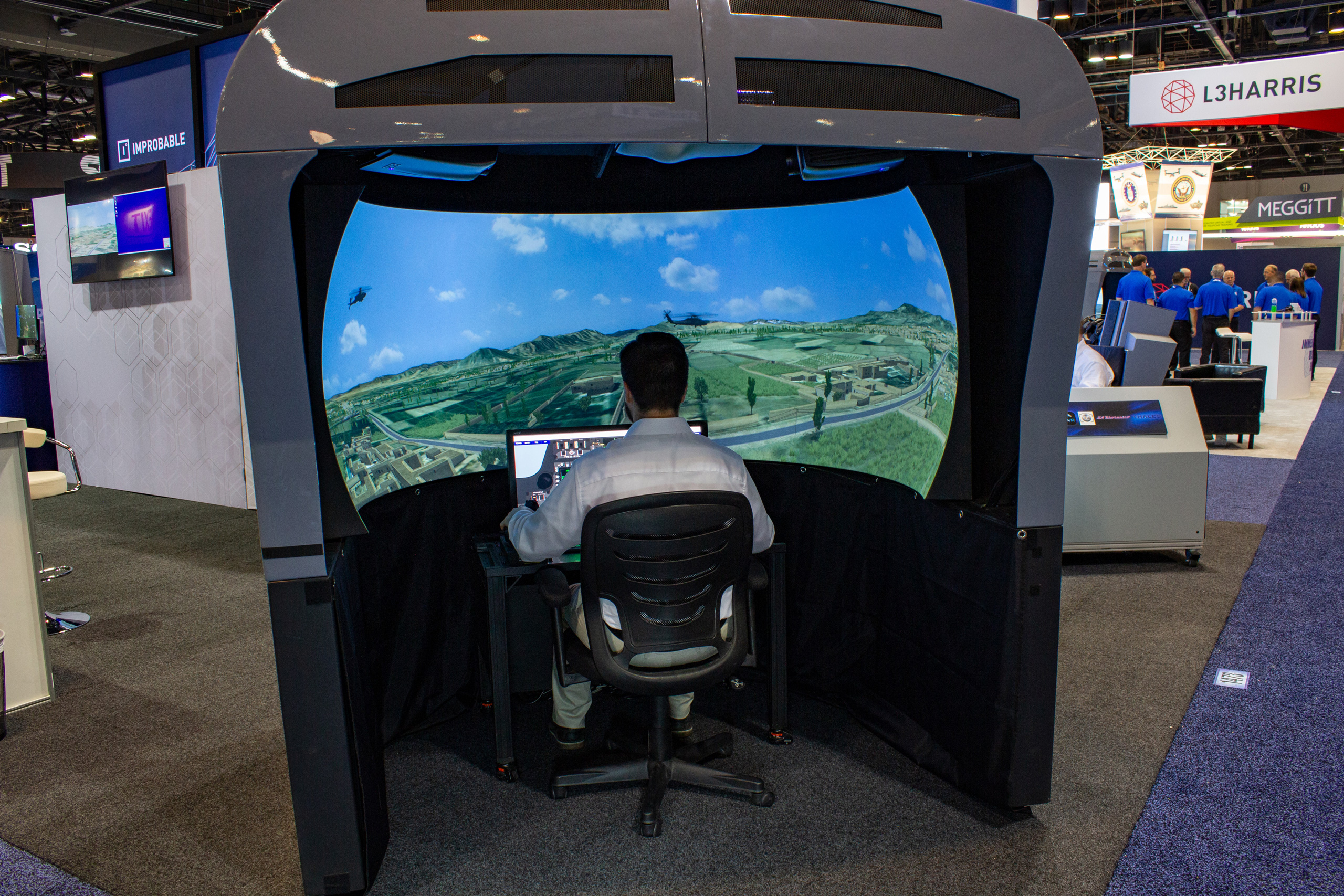 ZedaSoft demonstrating a virtual cockpit in the IDSI VisionStation 3, with VRSG rendering a three-projector view of MVRsimulation's virtual Afghanistan 3D terrain.
Government
Air Force Agency for Modeling and Simulation 1933
Air National Guard Trainer Development 1933 *
Marine Corps System Command 1433
NATO 2173
U.S. Air Force Training Systems Product Group 1539
U.S. Army CCDC 329
U.S. Army PEO STRI 339, 1533
U.S. Navy 249 *
U.S. Navy / NAWCTSD 1439
Industry
Alion Science and Techonlogy 1009
Aptima 2401
Battlespace Simulations 1348 *
Boeing 1059
Booz Allen Hamilton 1265
Bugeye Technologies 1386
Charles River Analytics 1239
Cole Engineering Services 2084
Cubic 1948
Delaware Resource Group 295
Embry-Riddle Aeronautical University 242
Flight Safety International 1401
General Dynamics 2232, 2238
Georgia Tech Research Institute 1119
Huntington Ingalls Industries 1612
Immersive Display Solutions 1463 *
J.F. Taylor 1781
KBR Wyle 3135
L3Harris 1449
Leidos 1413
Lockheed Martin 1748
Northrop Grumman 2548
Pathfinder Systems 883
PLEXSYS Interface Products 1573 *
QuantaDyn 749
Raytheon 1037
SAIC 2149
Scalable Display Technologies 1768
SRP Aero 1348 (MetaVR's booth) *
Thales 649
TRU Simulation and Training 1201
Vertex 2556 *
Wartsila Defence 834
ZedaSoft 1473 *


* Booths that featured MVRsimulation visuals in their demos.
The past event described on this page contains the previous name of our company. Our company name is now MVRsimulation, per our announcement of September 1, 2021.