What's New in VRSG Version 7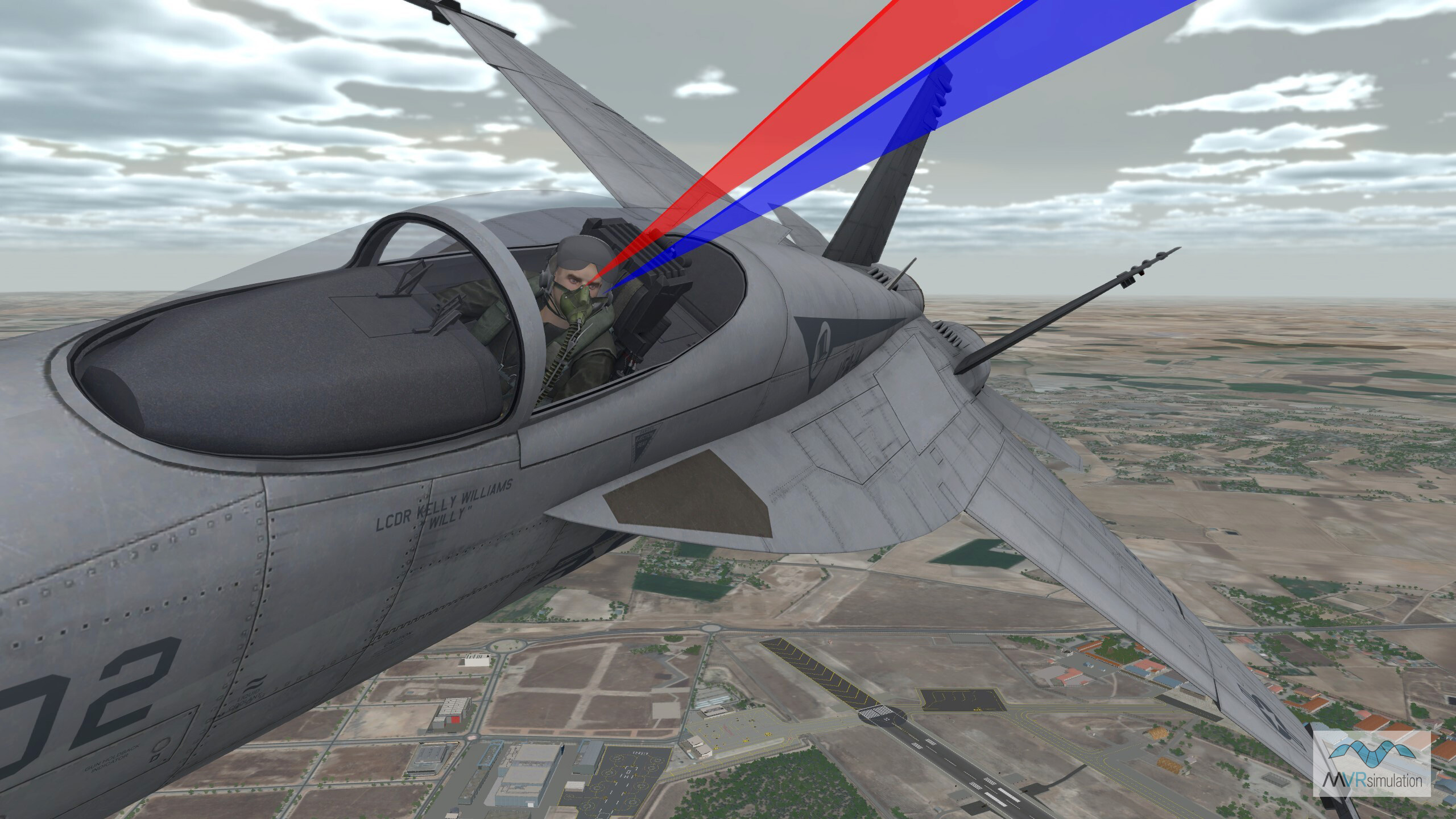 VRSG real-time scene visualizing the gaze of the wearer of a Varjo XR-3 mixed-reality headset through the collection of eye-tracking data. The scene features an F18C entity with Finnish markings in flight over 3D terrain of Albacete Air Base, Spain.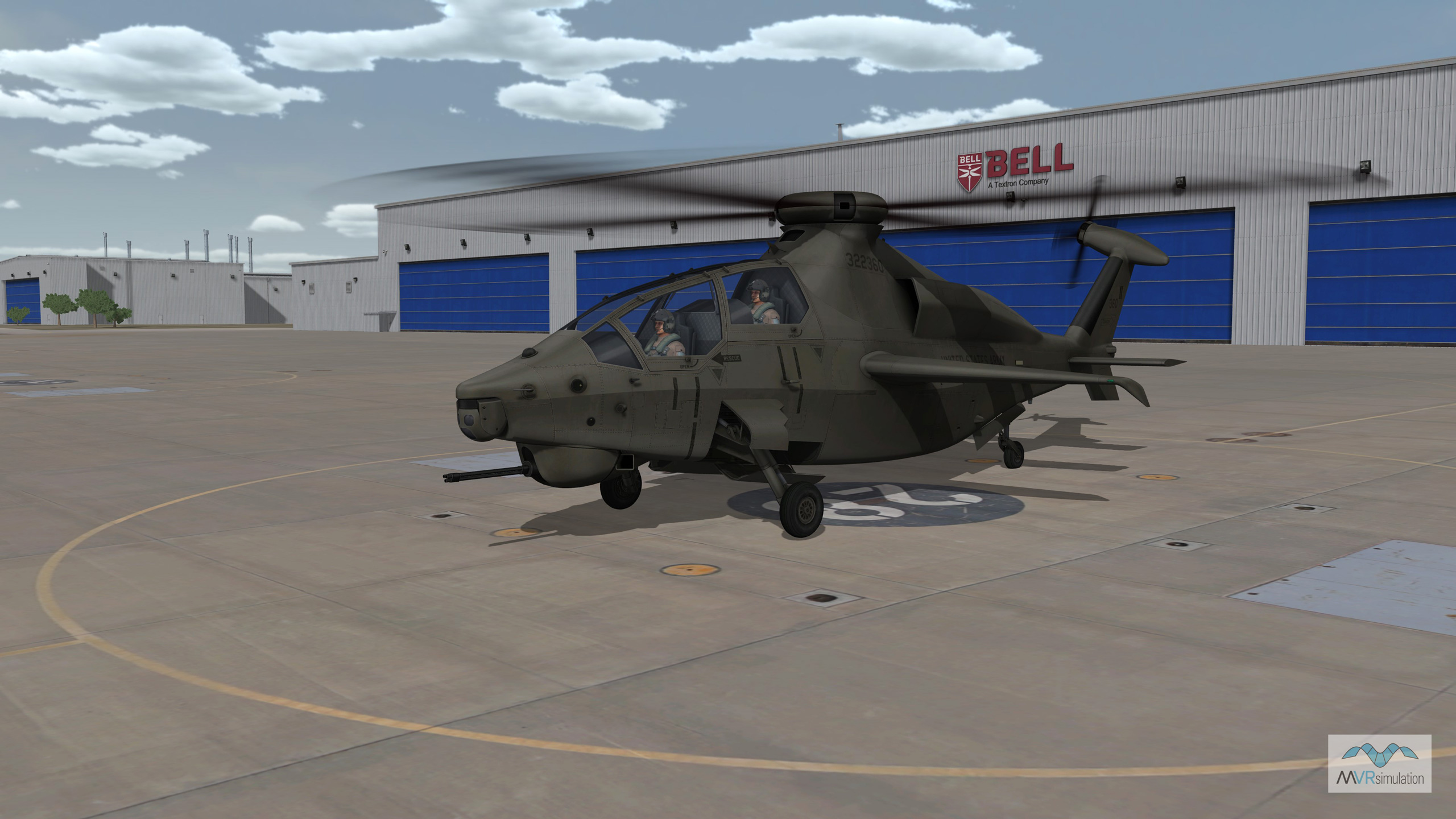 VRSG real-time scene with the new Bell 360 Invictus entity model on the ultra-high-resolution virtual terrain of Amarillo International Airport.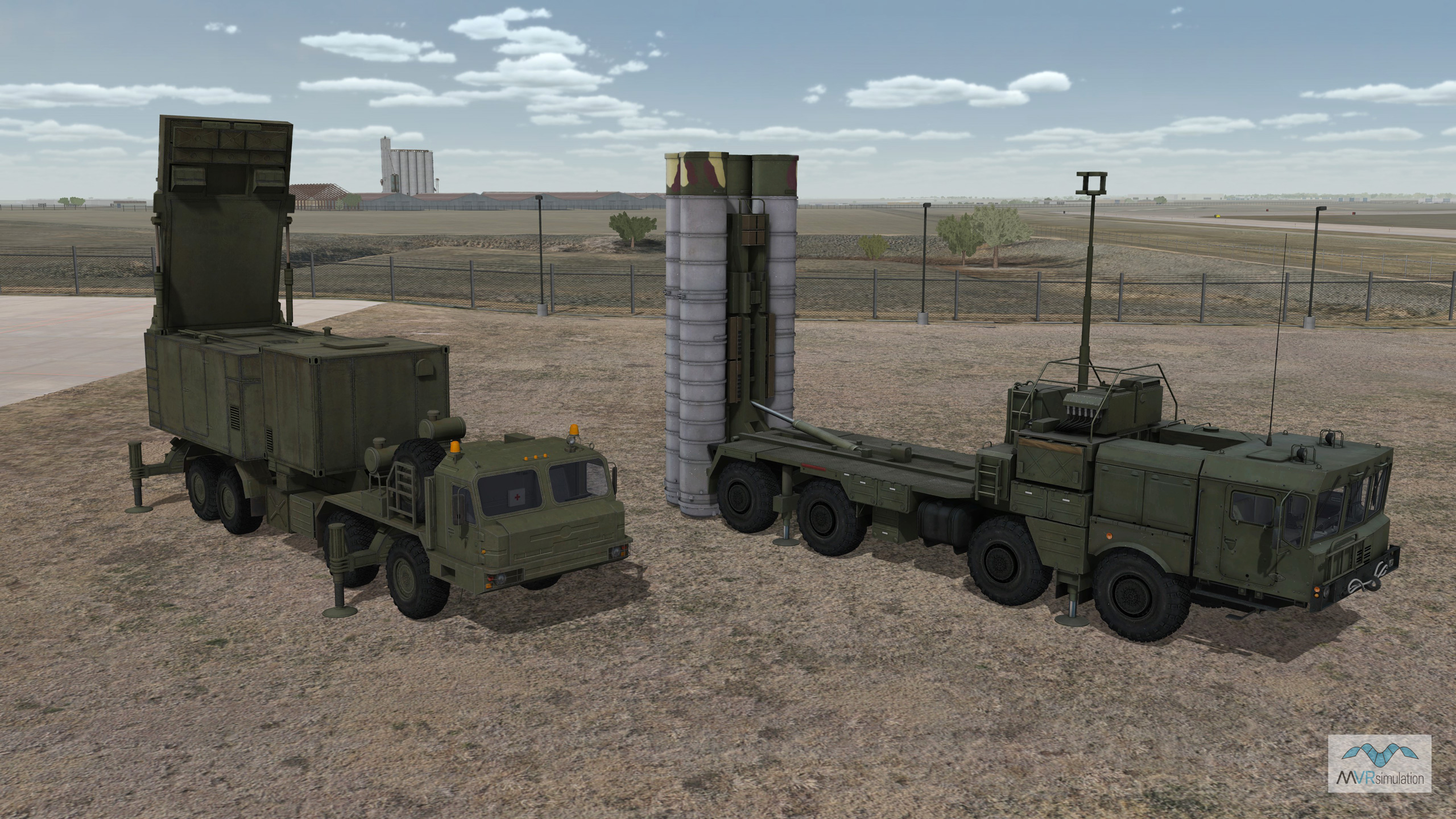 VRSG real-time scene with two Russian air/missile defense models distributed in the 3D model libraries with VRSG v7.0: 76T6.ru.green and 51P6.ru.green.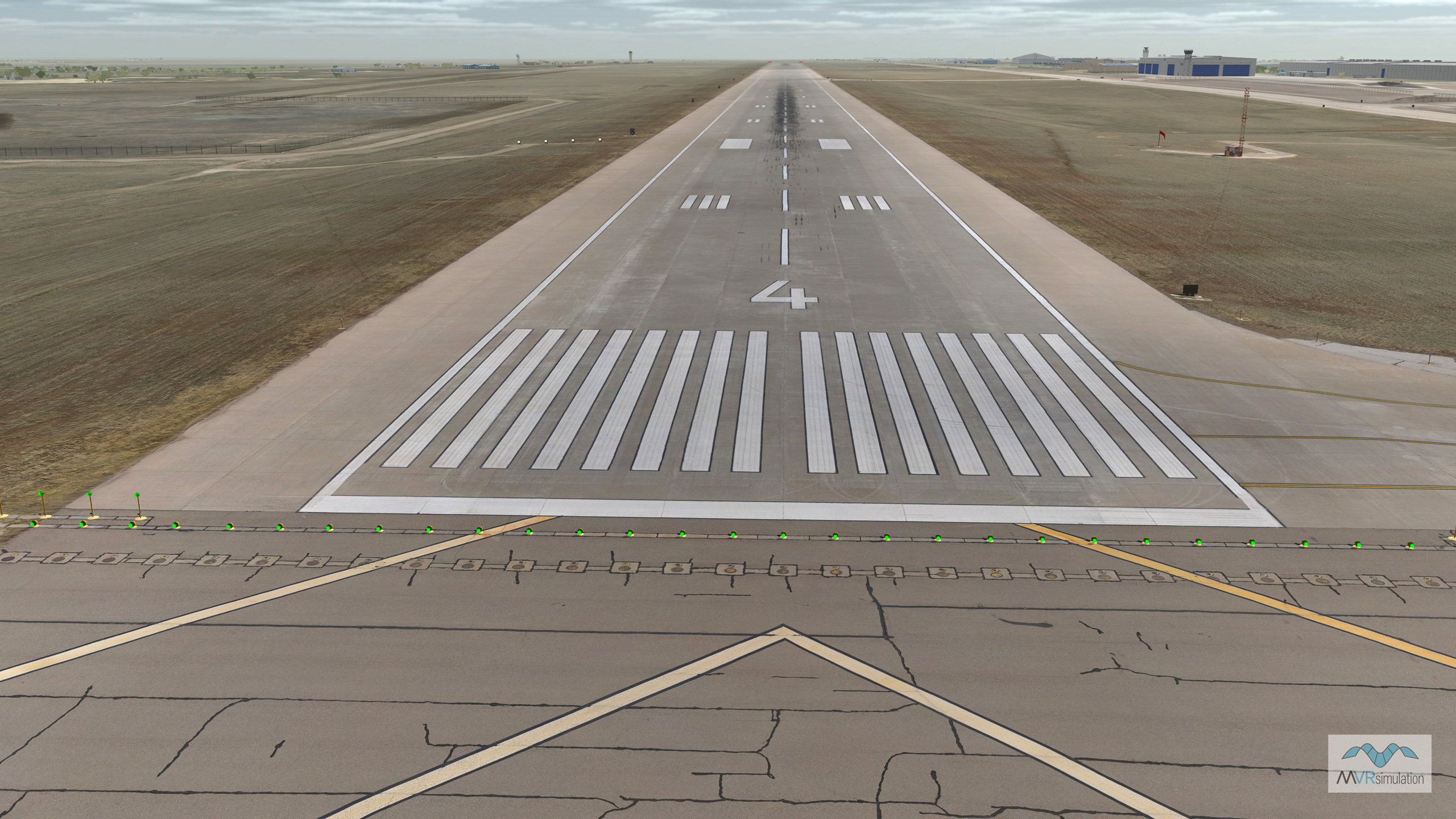 Real-time VRSG scene of runway 4/22 at the virtual Amarillo International Airport. The 5mm drone imagery of the runway was collected by SRP Aero.
MVRsimulation has released Virtual Reality Scene Generator (VRSG®) version 7.0 with the following new features and enhancements, and 3D content:
New features in the Varjo HMD plugin include using Varjo eye-tracking capabilities for visualizing in VRSG, for real-time monitoring (on a separate VRSG channel in stealth mode) and in training mission playback for after action review. Such features (controlled in the Dashboard's Varjo tab) include Enable Gaze Tracking which turns on tracking and pupil calibration, and Eye-Track Action Review, which inserts the headset wearer's head position and pupil gaze data into the DIS stream. Other features include foveated rendering options for Varjo headset and the ability to render the VRSG scene in an external display in addition to within the Varjo headset.
The Eye Track Visualization option on the More Graphics Options dialog box turns on the rendering of the eye-tracking data (head position and pupil gaze) from a Varjo headset that has been captured in the DIS stream in a recorded VRSG session, as described above. Head position is depicted with a head model and pupil gaze direction is depicted with red and blue cones.
New features in sensor simulation include:
- Built-in sensor fusion, enabling you to select two new possible sensor mode options: Visual Electro-Optic fused with IR White Hot and Visual Electro-Optic fused with IR Black Hot. You can control the fusion blend ratio by CIGI component controls or the slider on the Sensor tab of the VRSG Dashboard.
- Use of a JSON file for creating a radiance profile of materials for sensor simulation. This means you can now generate your own radiance profile either from IR Setup or from scratch in Notepad from a third-party sensor model or notional data. The IRSetup (under ITAR control) now produces an editable JSON file.
Ability to improve the appearance of dynamic cast shadows when viewing the scene through a narrow field-of-view (FOV), such as those typically used for UAV sensors. A narrow FOV induces high magnification and greater standoff distances, which can cause shadows to become washed out or to disappear entirely. Use the Shadow Quality checkbox on the Shadows tab to direct VRSG to render dynamic shadows at a higher resolution, for FOV angles below a given threshold. (You can find the FOV in use on the Dashboard's Graphics tab.)
343 new models (including 240 new military models) have been added to MVRsimulation's 3D model libraries since the previous release of VRSG in February, bringing the total count to over 8,920 models.
New support for multiple sizes of pageable textures: 512 x 512, 1024 x 1024, and 2048 x 2048 in 3D terrain built with newly released Terrain Tools v2.0. Terrain databases converted from OpenFlight source also benefit from multiple sizes of pageable textures with MVRsimulation's updated OpenFlight to VRSG terrain format conversion utility.
Remote Regeneration options Generator/Receiver on the Attach Offsets dialog box configure a given VRSG machine in UAV mode to transmit telemetry via DIS packets to a remote VRSG client machine.
Ability to attach a light lobe to a dynamic moving model via a JSON file.
The 2D sensor overlay AN/DAS-1 has been updated to AN/DAS-4.
New SetPDU interface ATTRV_LOAD_MODEL_MAP supplies the directory of a specific ModelMap.ini to load.
New CIGI component control, CIGI_ComponentIdRotorWashParams, controls particle dispersion of a rotor wash effect: AGL height at which the effect begins, particle speed, and particle speed variance.
New CurvedDisplay plugin provides horizontal distortion correction for curved monitors.
New PixelShift plugin supports projectors that require a pixel shift for emulated 4K resolution.
VRSG has been recompiled in Visual Studio (VS) 2019. User-developed plugins built with VS 2015 and 2017 will remain compatible with VRSG version 7.0.
In addition to the rebranding of the company name to MVRsimulation, this release includes a new naming convention for cultural feature files, viewpoint files, PDUlogs, sensor profiles, and microtextures is: vrsg.clt, vrsg.viewpoint, vrsg.pdulog, vrsg.irm, vrsg.json, and vrsg_microtexture_ x_y_z.tex. Previously created files with the older convention of "metadesic" filename are respected by VRSG 7.
Scenario Editor version 2.3, with full support for newly named vrsg.clt, vrsg.viewpoint, and vrsg.pdulog files. Previously created files with the older convention of "metadesic" in their name are respected.
RECENT UPDATES TO 3D TERRAIN
MVRsimulation's newest geospecific 3D dataset of Amarillio Airport, TX, was built using VRSG v7.0 and MVRsimulation Terrain Tools for Esri ArcGIS, version 2.0.
The terrain is comprised of 5 mm per-pixel and 2 cm drone imagery of the airport (14 sq km), 30 cm Maxar imagery of the airport, and 30 cm Texas Open Data (TRNIS) imagery of the Amarillo metropolitan area blended to 1m NAIP base imagery of CONUS++ terrain. The elevation source includes 70 meter elevation data of the airport blended to 10 meter NED data of Amarillo and underlying DTED-1 base elevation.
This terrain contains a substantial number of 3D culture models of the airport, such as two geospecific runways, helipads, runway lights, runway signs, a control tower, multiple hangars, and CityEngine-generated 3D culture of the city of Amarillo. The terrain was compiled in our round-earth terrain format for rendering in VRSG.

This ultra-high-resolution terrain will be available on MVRsimulation's CONUS++ South Central region 3D terrain in Q1 2022 and will be available to purchase by customers who are on active VRSG software maintenance and are US Government agencies or contractors (for official use only). The terrain can be viewed with a valid VRSG version 7.0 or greater software license with valid software maintenance.
PREVIOUS RELEASES
If you need information about an older release, please contact support@mvrsimulation.com.
HOW TO OBTAIN THE LATEST RELEASE OF VRSG
Customers on active maintenance can obtain the latest release of VRSG (version 7.0) by downloading the VRSG 7.0 software and model libraries from their account on MVRsimulation's Download Server. If you need an account, click here to request one.
You can order VRSG directly from MVRsimulation by filling out the quote request form.