JTAC Dome Trainer at UK JTAC Schoolhouse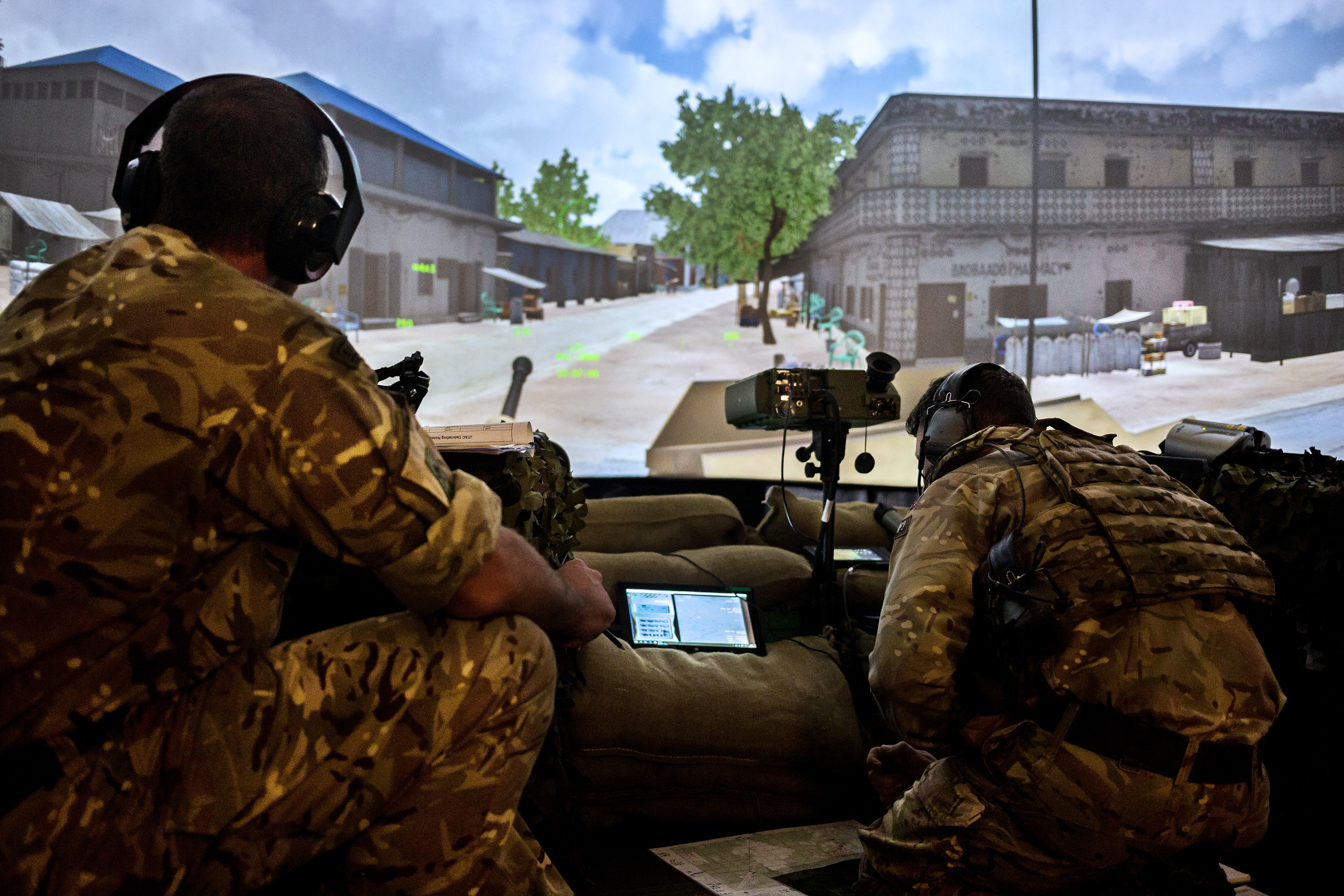 The iCASS simulator; MVRsimulation's VRSG renders 3D terrain of Kismayo, Somalia, on the curved display. (Photo courtesy of Close Air Solutions.)
MVRsimulation's VRSG is used in the Immersive Close Air Support Simulator (iCASS) training system in the UK's FAC/JTAC Training Programme, at the Joint Forward Air Control Training and Standardisation Unit (JFACTSU), Royal Air Force Station Leeming, North Yorkshire, England.
The iCASS system, developed by Close Air Solutions' provides a high-fidelity, immersive training environment featuring a 3 meter 240 x 120 degree FOV immersive dome display from Immersive Display Group and uses MVRsimulation visuals: 12 VRSG channels for the projected views and simulated laser target designator and range finder devices, geospecific 3D terrain, and 3D model libraries. The system meets DIS/SISO standards.
The iCASS also features computer generated/semi-automated forces and threat generation from Battlespace Simulations' (BSI's) Modern Combat Environment (MACE), which includes CFF, 9-Line, and 5-Line interfaces as well as the virtual pilot station. Also used in the system are BSI's Viper DIS radio for communications and DIScord DIS recorder for after action review (AAR).
The iCASS is accredited by the US Joint Fires Support Executive Steering Committee (JFS ESC) Memorandum of Agreement (MOA) and NATO AIRCOM (STANAG 3797) to replace up to 8 out of 12 live controls required annually by each qualified FAC/JTAC.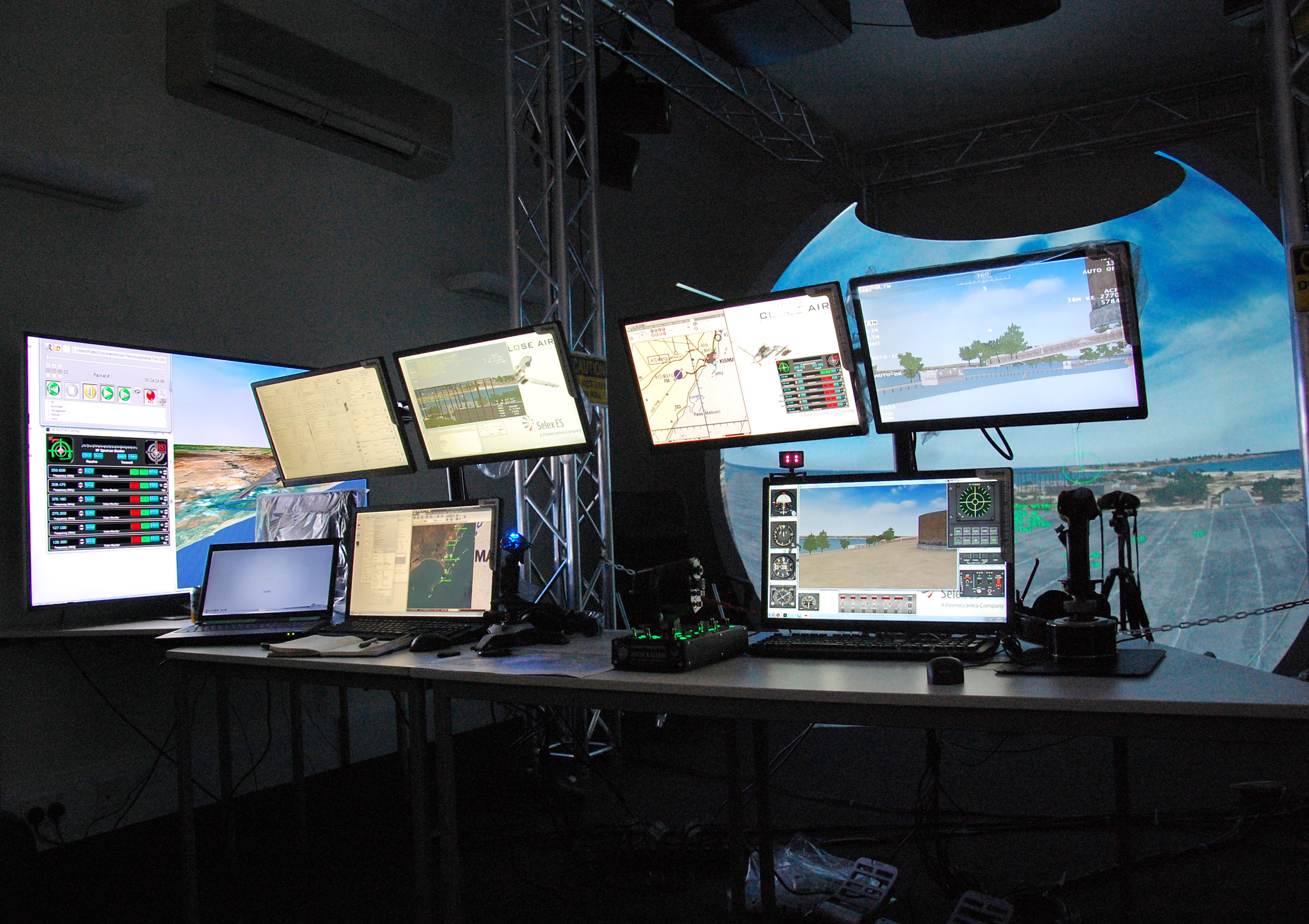 The iCASS simulator at Joint Forward Air Controller Training and Standards Unit (JFACTSU), RAF Leeming, UK. (Photo courtesy of Close Air Solutions.)
The JFACTSU use the iCASS for training UK FACs/JTACs to the highest possible accreditation standard in Types 1, 2, and 3 terminal attack controls and in air-to-surface fires, and with capabilities for:
Day and night time (with NVGs during night controls)
Ground laser target designator
IR pointer
Video downlink
Surface to surface fires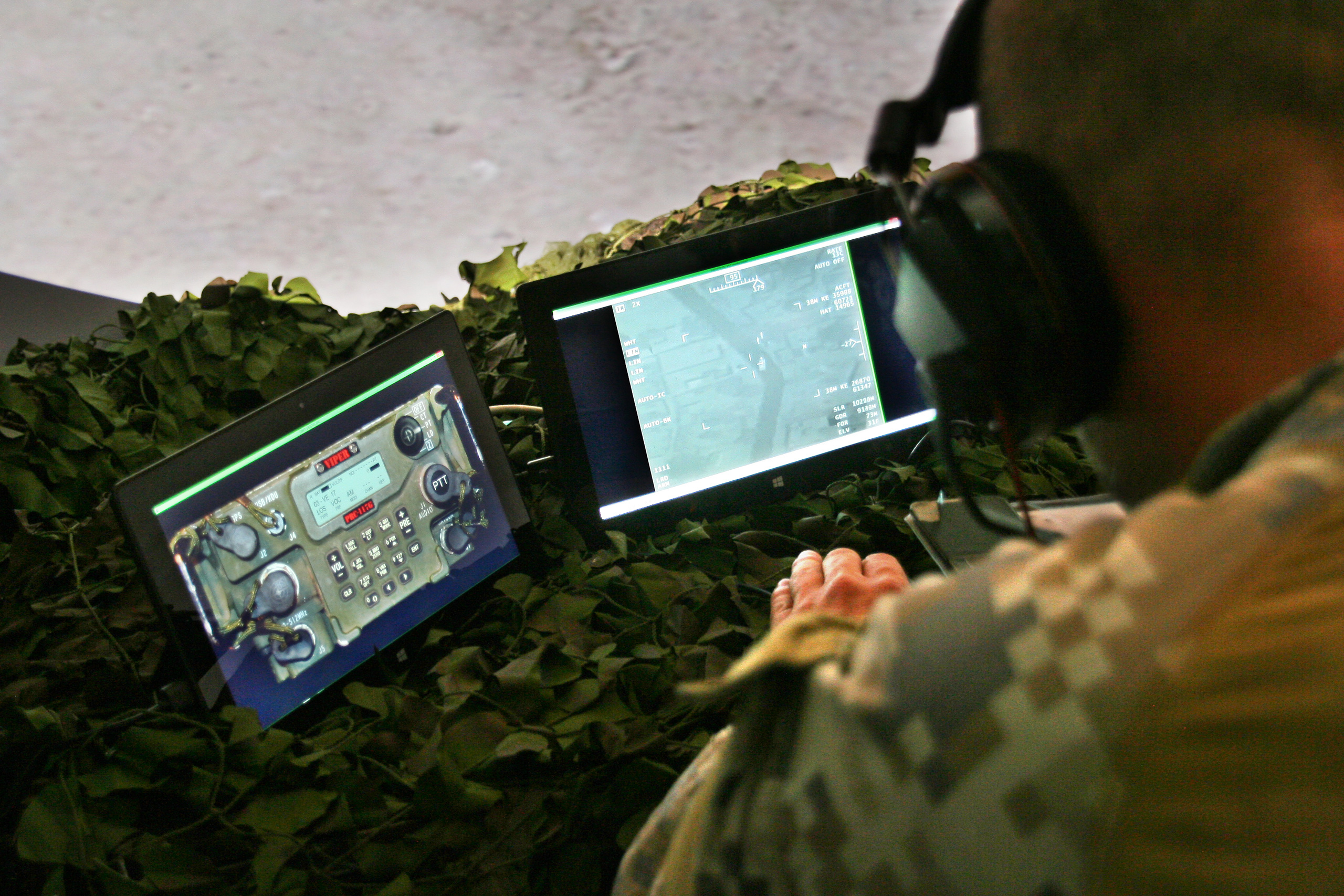 BSI's Viper DIS Radio (with PRC-117G skin) on the left, and MVRsimulation's VRSG's simulated sensor full-motion-video (FMV) feed on an FMV receiver in the iCASS simulator. (Photo courtesy of Close Air Solutions.)
The iCASS is in use throughout the JFACTSU curriculum for familiarization, acquisition, practice, and potentially for validation of students. Close Air Solutions delivered (in partnership with Selex ES (now Leonardo)) and installed both an iCASS-240 immersive simulator and an iCASS desktop simulator (similar to the BSI/MVRsimulation Desktop simulator). The system also includes a Teleplan Globe's FACNAV Digitally Aided Close Air Support (DACAS) system.
JFACTSU at RAF Leeming is the only NATO and US Joint Services accredited UK Defence facility for training FACs/JTACs. The JFACTSU currently trains around 100 FACs/JTACs per year from all UK military services (Army, Royal Marines, RAF Regiment, and Special Forces). The installation of the iCASS expanded the current training options offered at the school.
The initiative behind the development of the iCASS system began with the two former JFACTSU instructors and simulator system architects. During their tenure at the school, they saw the need for students to train on an easy-to-use realistic simulation system. An early demonstration of the iCASS capabilities was during Exercise Ample Strike 2014.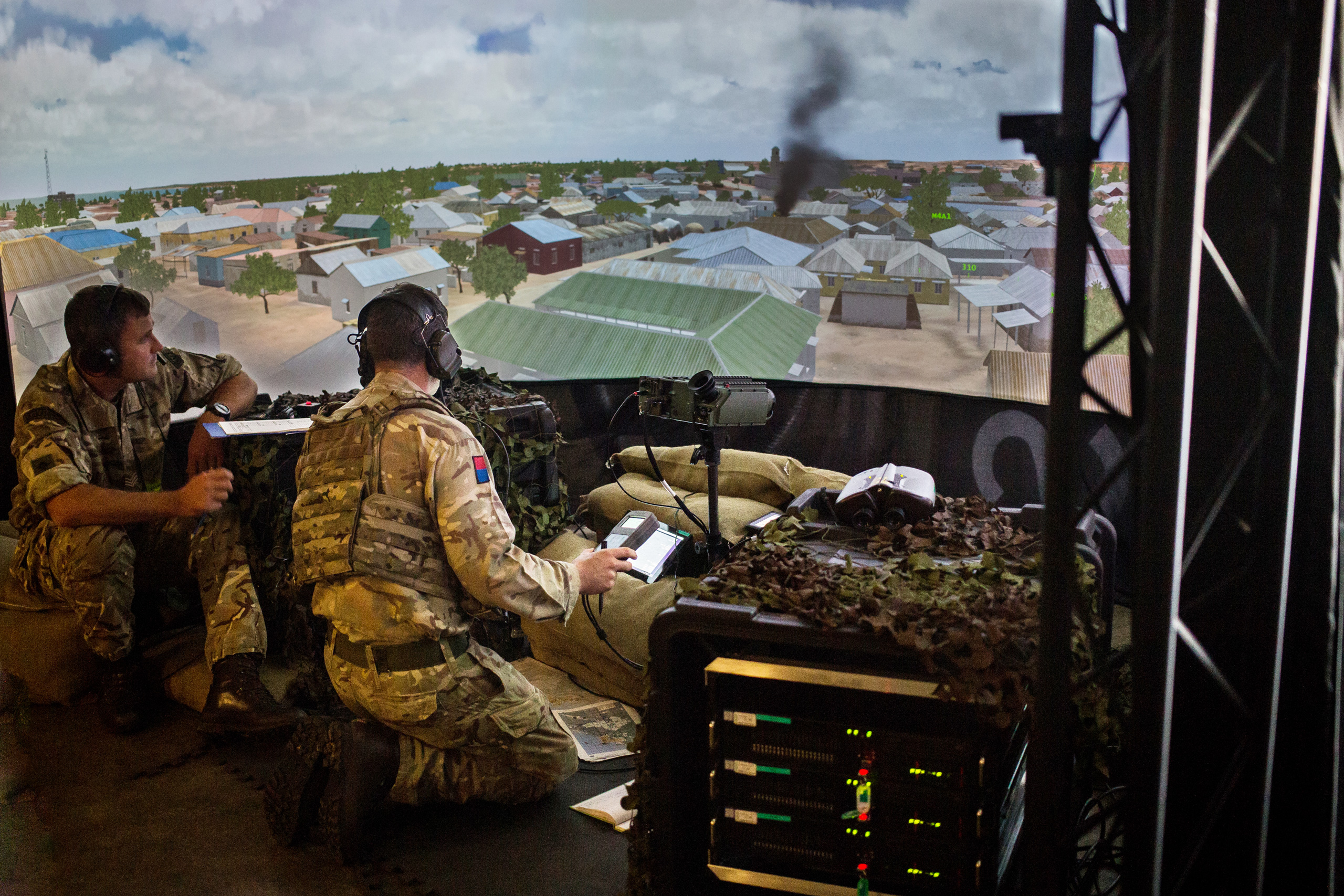 The iCASS simulator at Exercise Terminal Strike. MVRsimulation's Kismayo terrain is rendered in VRSG on the curved display. (Photo courtesy of Close Air Solutions.)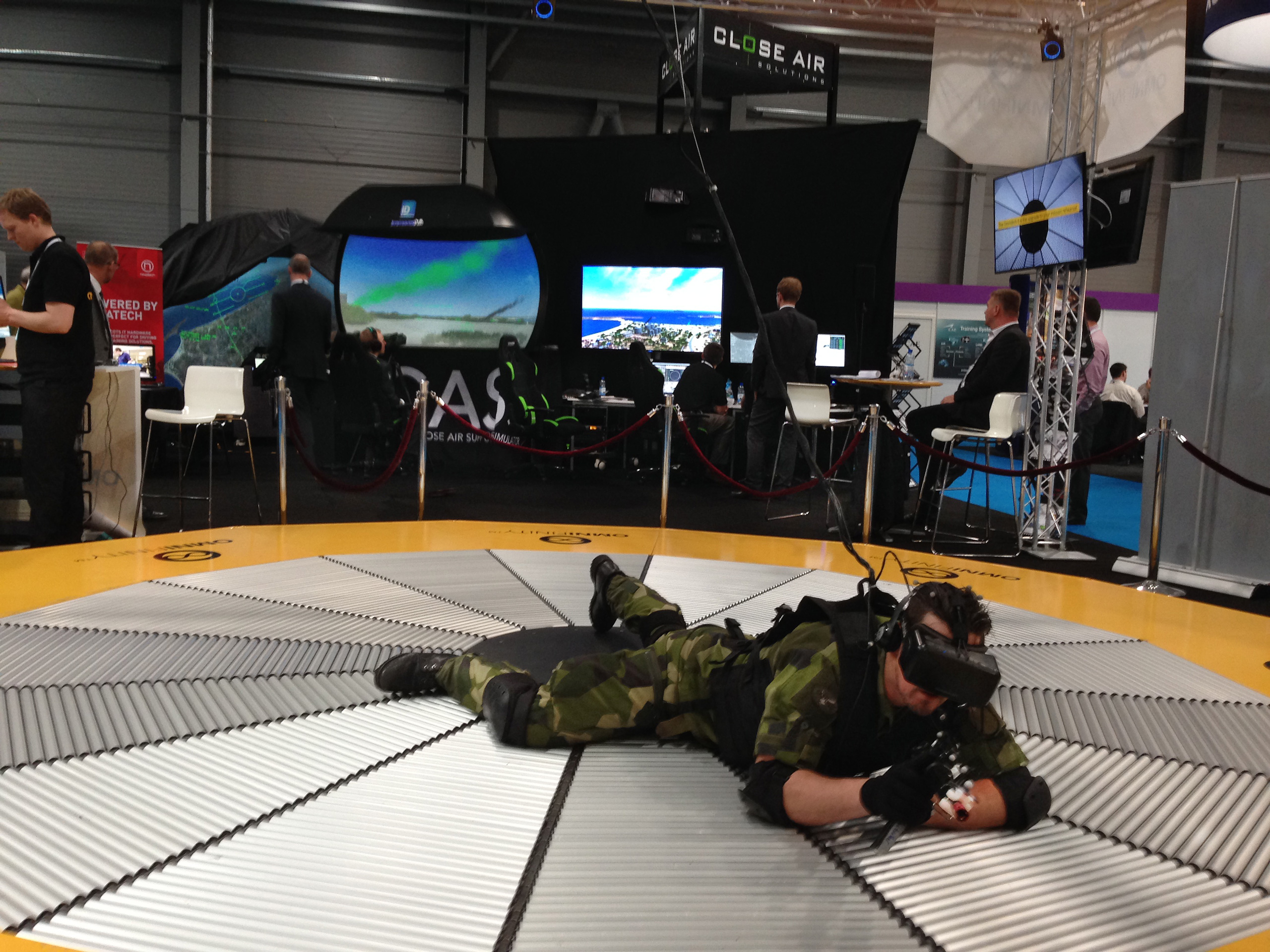 The iCASS dome at ITEC'15: with integrated close air support demo with MVRsimulation's VRSG and with Omnifinity's Omnideck.
All photos on this page, except for the ITEC'15 photo, are courtesy of Close Air Solutions.