JTAC Simulation Training at Nellis Air Force Base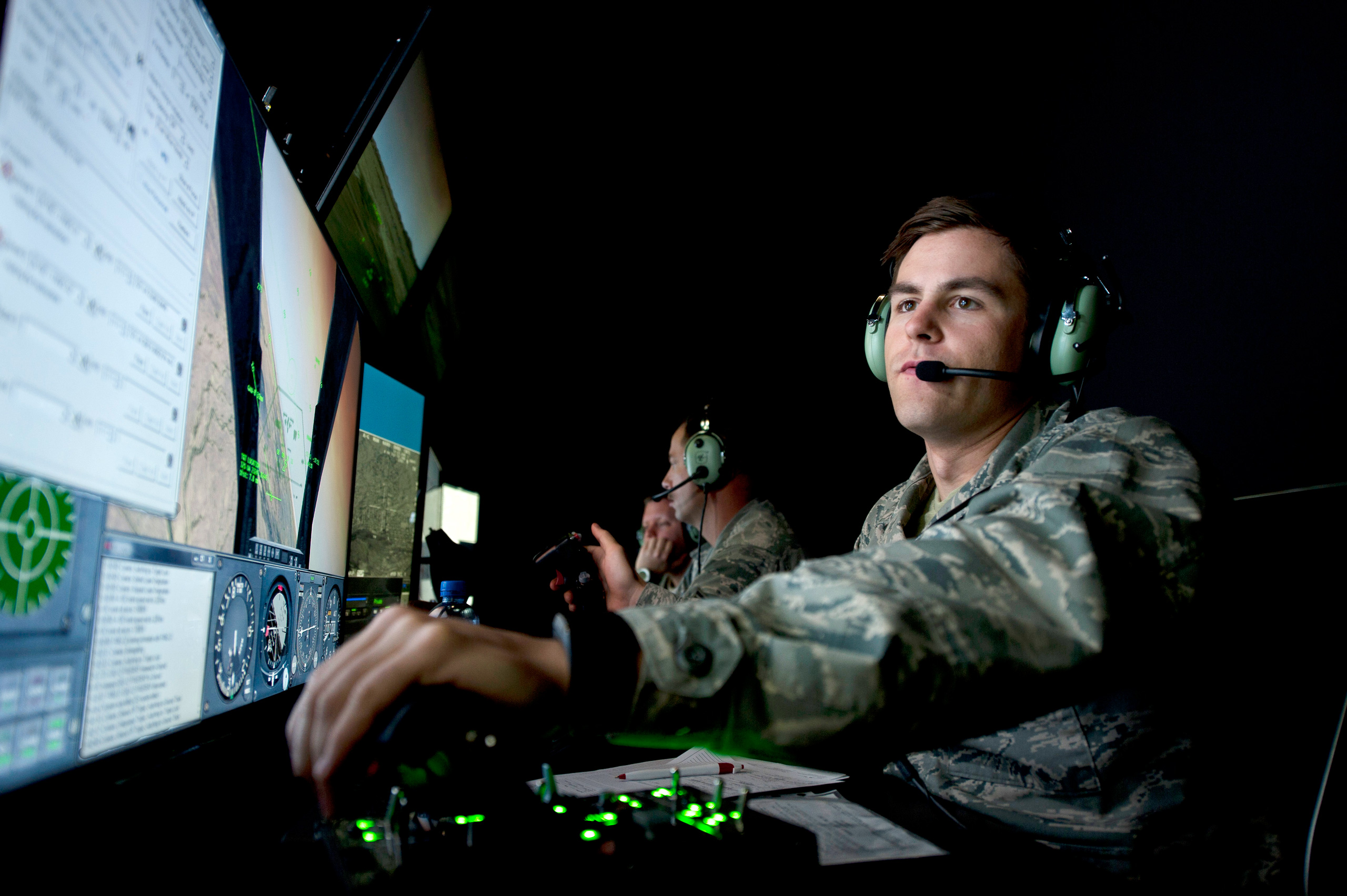 Detail of AJTS dome simulator at the Nellis JTAC Virtual Training Facility, showing a trainee at the pilot station, with the BSI MACE 9-Line form on left in the foreground, the MVRsimulation VRSG pilot out-the-window view on the large screen in front of the trainee, the VRSG sensor view to his right in background. The top screen displays another VRSG view, of what the JTAC sees. (Photo courtesy of Nellis Air Force Base JTAC Virtual Training Facility.)
The US Air Force's primary joint terminal attack controller (JTAC) Virtual Training Facility at Nellis Air Force Base, Nevada, uses MVRsimulation visuals in multiple training dome and desktop configurations for joint fires simulation training. At the facility, often referred to as the "Nellis JTAC schoolhouse," the 6th Combat Training Squadron (CTS) provides the JTAC Qualification Course (JTACQC) and JTAC Instructor Course (JTACIC) to US Air Force JTAC and JTAC instructor trainees. The JTACQC helps each student develop concepts, doctrine, procedures, and techniques for using combat firepower during joint operations. As the main USAF JTAC training facility, the schoolhouse offers the largest number of co-located and networked USAF JTAC simulators.
For the partial dome simulators, the Headquarters Air Force purchased two Advanced Joint Terminal Attack Controller Training Systems (AJTS) for the facility, which were installed in 2014.
The Nellis JTAC schoolhouse also uses the accredited desktop system, called the JTAC-TACP/Operational Simulation Suite (J-T/OSS) v2.0 Desktop system. Like the AJTS, the J/TOSS uses BSI MACE and MVRsimulation VRSG and enables students to train on a virtual battlefield with Joint Fires interfaces, such as 9-Line, 5-Line, and call for fire (CFF). The JTAC trainee also has VRSG channels available in the form of a simulated monocular/binocular used for laser range finding and target designation, as well as full motion video (FMV) feed for external targeting information. The J-T/OSS system has a variety of DIS tools, including BSI's Viper DIS radio, BSI's DIScord for mission recording and playback/after-action review (AAR).
The instructor can control all constructive entities (including attacking aircraft and artillery), as well as ground entities and threats. Features that support such missions include physics-based weapons performance, laser target designation, full-motion infrared video feeds, dynamic scenario inputs, human-level behaviors, path finding, blast effect calculations, complex weather system control, and a robust weapons and entity library. The system is capable of importing existing military topographic database information to enable operators and instructors to quickly develop scenarios appropriate for mission rehearsal. The J-T/OSS Desktop systems are the schoolhouse's "workhorse" trainers; all 5 systems, which run on a small network, have logged over 15,000 training hours since March 2013.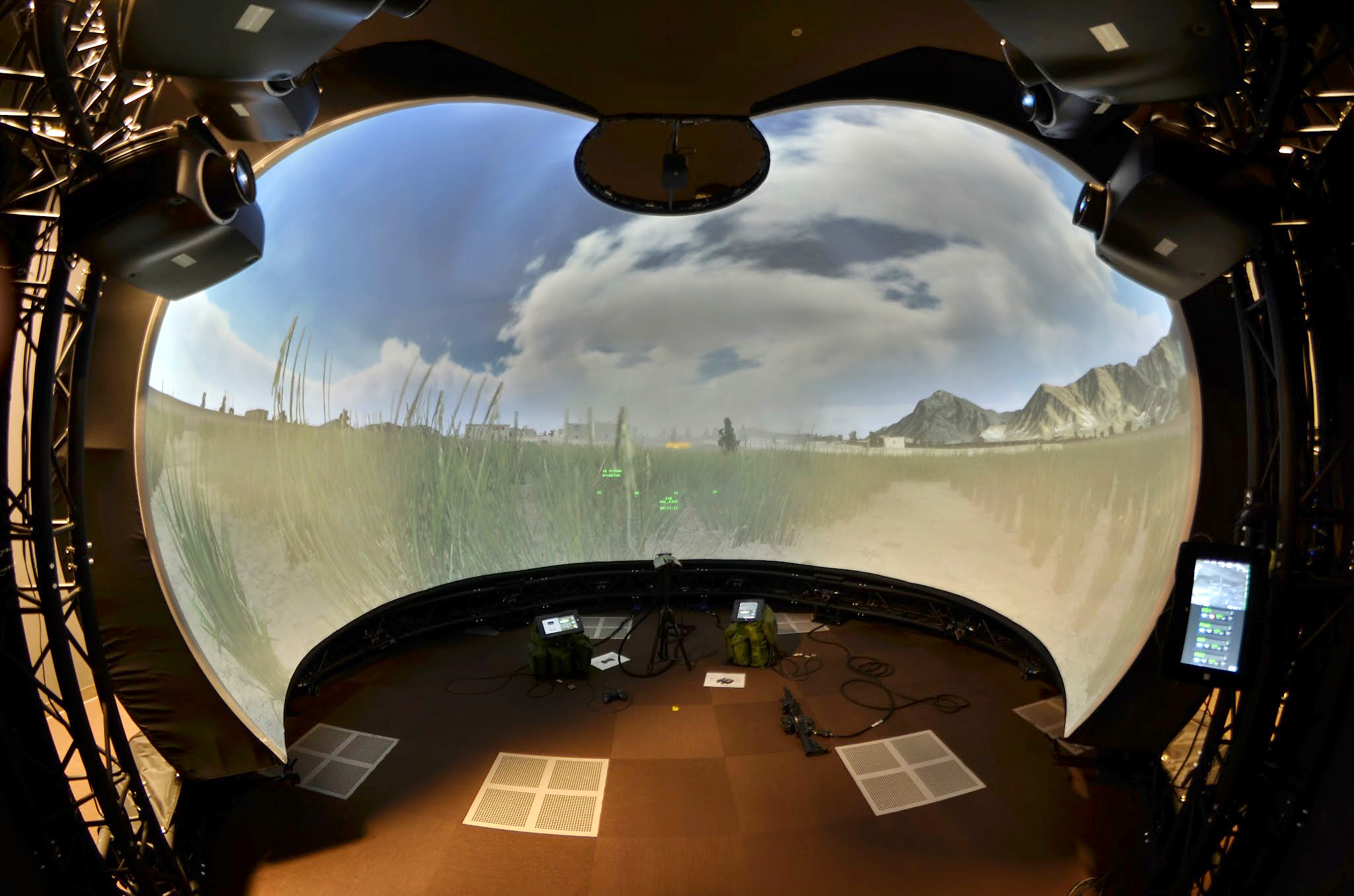 One of the two AJTS dome simulators at Nellis JTAC Virtual Training Facility. (Photo courtesy of BSI.)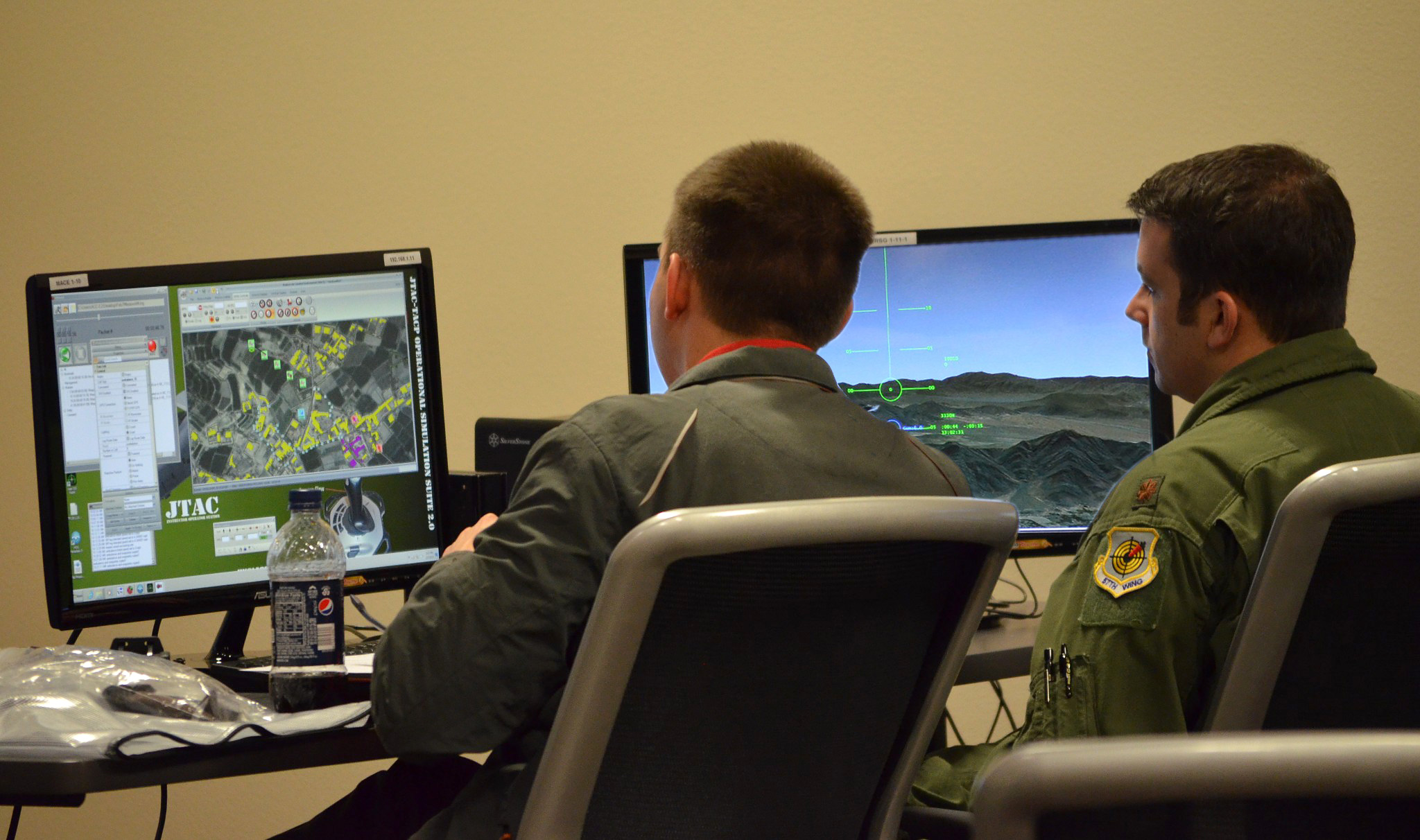 The instructor station of the J-T/OSS v2.0 desktop JTAC simulation system at the Nellis JTAC Virtual Training Facility. Shown on the monitor on the left is BSI's MACE, on the right is MVRsimulation's VRSG.
The JTAC Virtual Training Facility at Nellis AFB opened in October 2010, with 6 Meggitt Indirect Fire Forward Air Control Trainer (I-FACT) systems. Those systems were replaced; all the JTAC simulators at the facility are running MVRsimulation and BSI's software. A total of 37 VRSG licenses are in use across all the simulators.
The two AJTS dome systems are heavily scheduled for day and night training, and have logged over 3,000 training hours since mid-2014. Due to the advanced capabilities in the day/dusk/night/dawn visual spectrums, these dome systems are often used for training in night-vision view. Trainees in full-kit body armor participate in exercises using a PVS-14 night vision monocular. At present, training is conducted on the dome systems on a standalone basis; plans are underway to network the systems for future participation in distributed mission operations (DMO) exercises.
Both courses are comprised of 1/3 simulation training, 1/3 field training exercise (FTX), and 1/3 academics. The simulation portion requires students to complete 7 scenarios within a two-week timeframe on both the dome and desktop simulators. During this time, students map out the planning and execution of specific missions that make up the scenarios. The scenarios in the dome systems are often more complex than what students face in their subsequent field training. Once students complete the JTACQC, they return to their units for evaluation.
Soldiers from other organizations also train on the JTAC simulators. Special Operations personnel spend 2 weeks twice a year training on the range at Nellis and completing close air support (CAS) exercises on both the dome and desktop JTAC simulators. In addition, National Guard soldiers who visit Nellis to train on the range participate in currency training on the simulators.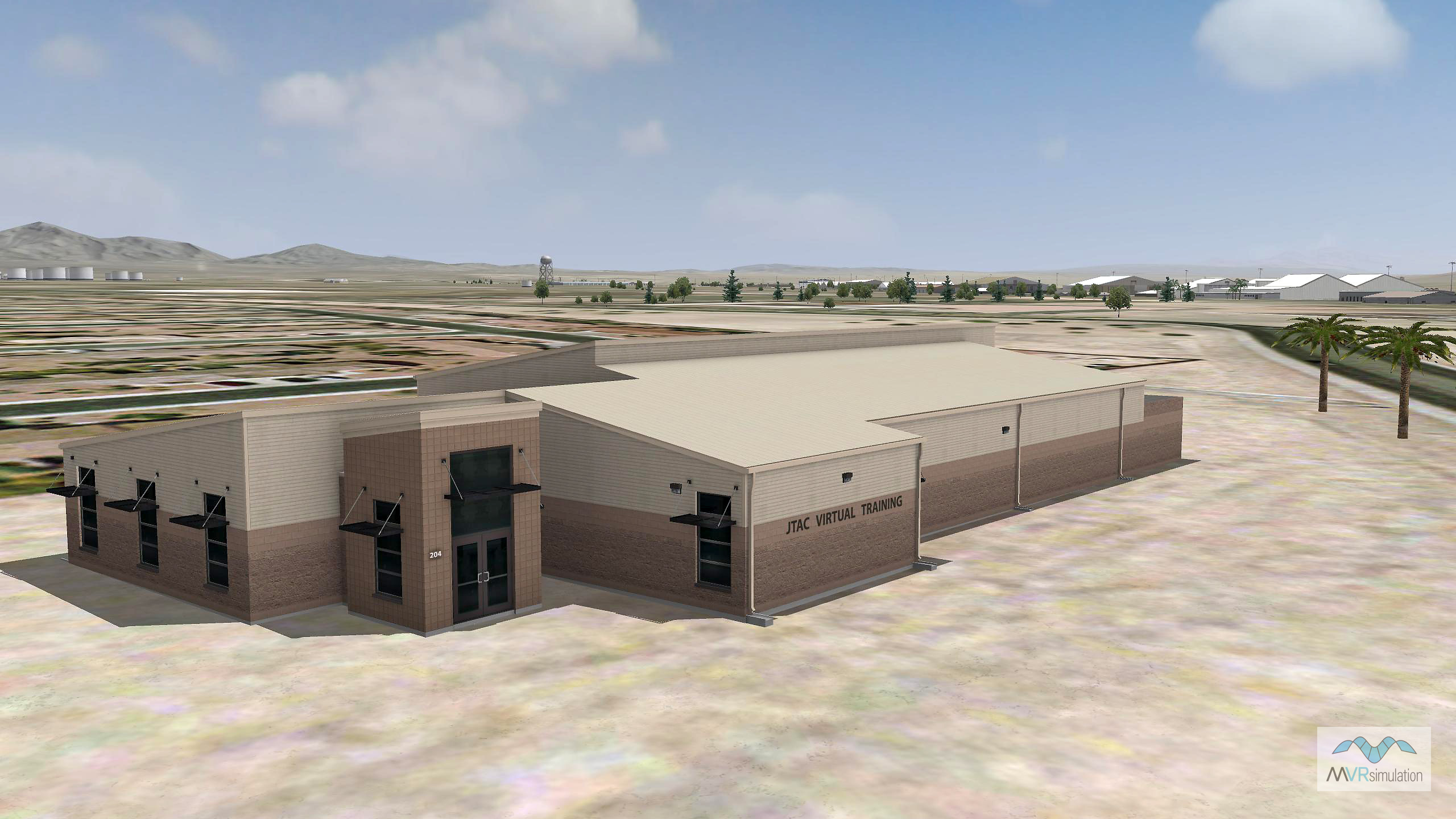 VRSG real-time rendering of MVRsimulation's 3D model of the JTAC training facility on Nellis Air Force Base.