FAA M350 Flight Simulator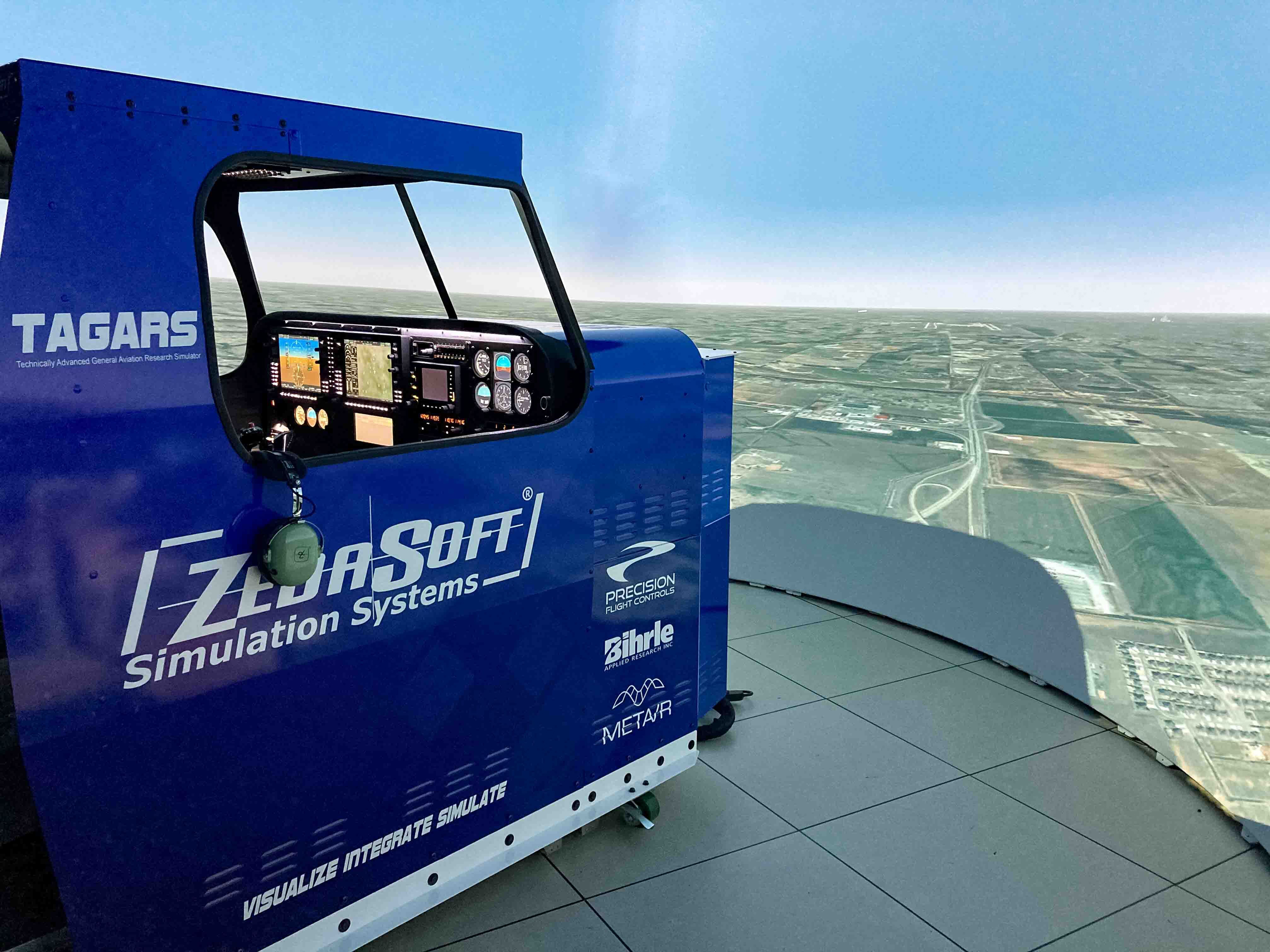 MVRsimulation VRSG in the FAA's Civil Aerospace Medical Institute (CAMI) new Piper Malibu M350 flight simulator, TAGARS, providing an out-the-window view over round-earth geospecific 3D terrain of CONUS. (Photo courtesy of ZedaSoft.)
MVRsimulation VRSG forms part of a new Piper Malibu M350 flight simulator delivered to the FAA's Civil Aerospace Medical Institute (CAMI) by ZedaSoft. The specially-designed flight simulator is a Technically Advanced General Aviation Research Simulator (TAGARS), which will be used for CAMI's research into civil human factors and flight safety.
MVRsimulation is part of a team selected by systems integrator ZedaSoft to provide a solution to meet the FAA's needs. Precision Flight Controls provided the cockpit, flight controls, and simulated Garmin G1000 hardware. With assistance from Garmin, ZedaSoft developed a G1000 software simulator and integrated it with the Precision Flight Controls G1000 hardware. Bihrle Applied Research provided the pilot-validated flight model and aircraft systems models derived from test data. When combined with ZedaSoft's patented Container Based Architecture for Simulation (CBA), these models are what make the simulated aircraft fly like a Piper Malibu M350.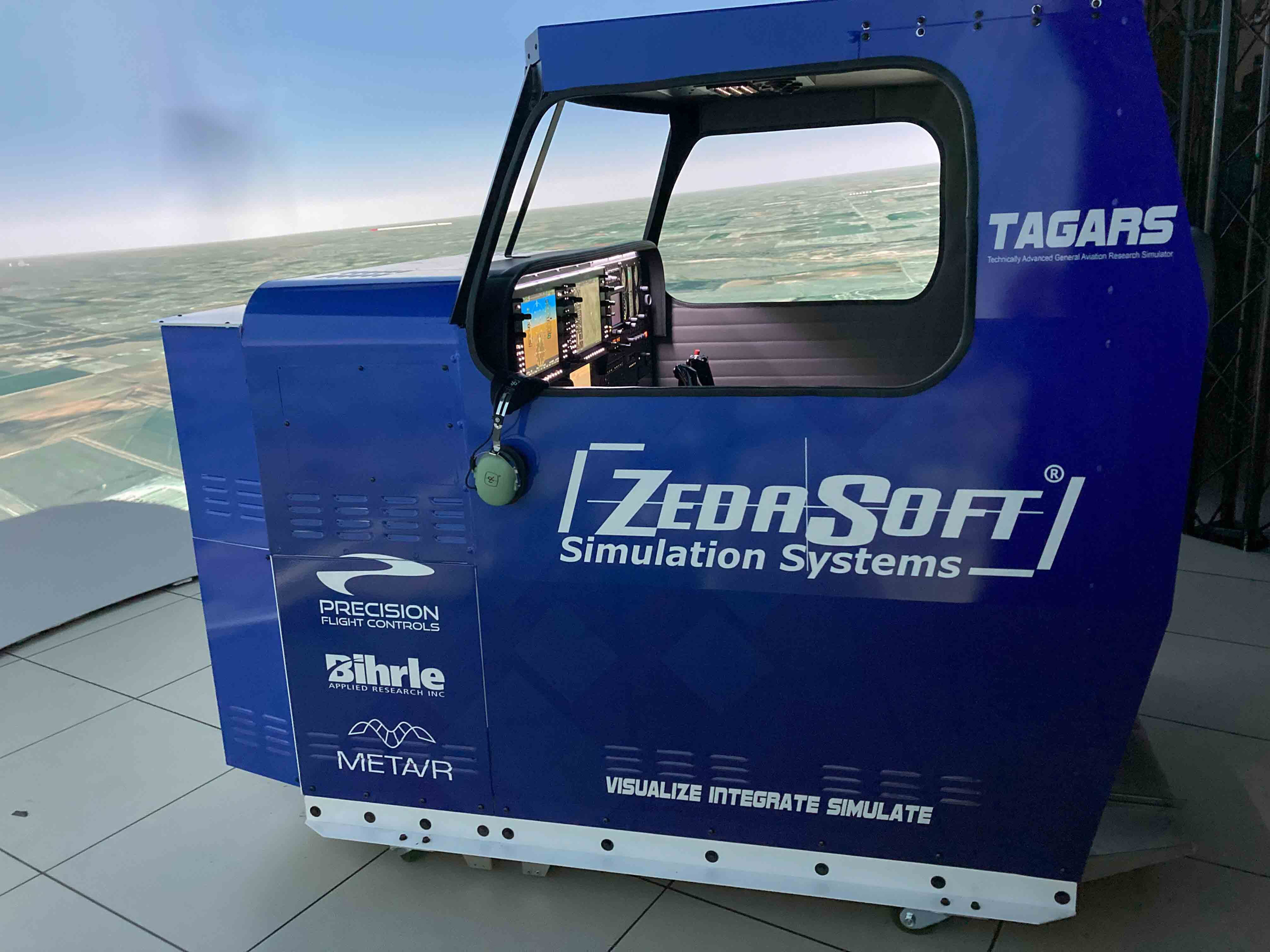 VRSG in the FAA's Civil Aerospace Medical Institute (CAMI) new Piper Malibu M350 flight simulator, TAGARS, providing an out-the-window view over MVRsimulation's round-earth geospecific 3D terrain of CONUS. (Photo courtesy of ZedaSoft.)
For the 3D real-time visual suite, ZedaSoft integrated VRSG as part of the TAGARS' projector-dome configuration to provide the visual system for both the out-the-window and sensor views. VRSG simulates the onboard sensor system by streaming real-time HD-quality H.264 video with KLV metadata, which enables operators to train using the same hardware that they use while flying actual, real-world missions. Out-the-window views of MVRsimulation's CONUS++ are projected on to the dome displays, enabling training to take place immersed in a virtual world that exactly replicates real-world terrain.
ZedaSoft's mission is to provide high quality, flexible, repeatable, and innovative simulation solutions at a low cost. Its patented CBA provides the framework for all its simulators, including the runtime engine in the TAGARS. For over a decade MVRsimulation visuals have been integrated in many of ZedaSoft's simulators, including the USAF Test Pilot School (TPS) Avionics Familiarization Simulator at Edwards AFB, the FAA's Advanced General Aviation Research Simulator (AGARS), the Automatic Collision Avoidance Technology (ACAT) Fighter Risk Reduction Program (FRRP), and most recently the prototype Reconfigurable Virtual Cockpit Trainers (RVCT) and prototype door gunner trainers for the Army's Synthetic Training Environment (STE) program.